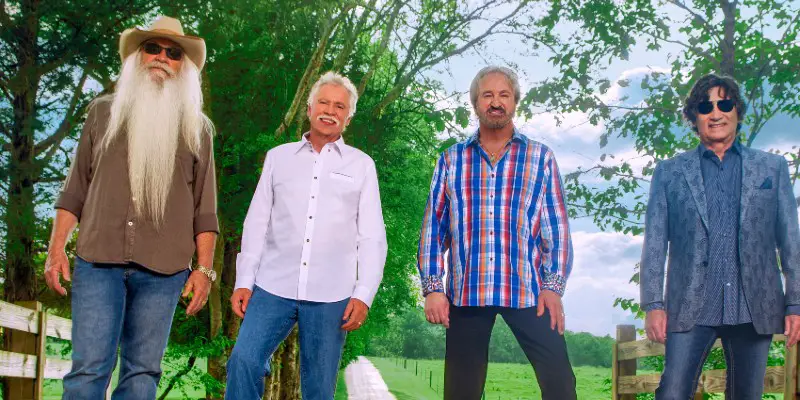 The 2022 Country Music Cruise just returned to land, after a delay due to a rise in COVID cases, and now we know who will be on next year's cruise. The lineup was just announced, and includes  The Oak Ridge Boys, Clay Walker, Randy Owen, John Berry, Neal McCoy, Mark Chesnutt and more.
"We really appreciate our artists and dedicated cruisers for sticking with us through a very challenging couple of years," Mike Jason, StarVista LIVE Senior Vice President, Live Entertainment, says. "Last week was absolutely amazing with an incredibly talented group of stars and musicians performing all day into the night, the greatest group of fans in the world, and a combination of beautiful Caribbean weather and a luxury ship with world-class amenities and service. We are planning 2023 to be bigger and better than ever."
The Oak Ridge Boys say being part of the Country Music Cruise is always a highlight for them, for multiple reasons, including the nonstop music and the delicious food.
"It's the music," Joe Bonsall previously told Everything Nash. "If you love country music, and if you love performances, what a bonus to be on the ship on the ocean, and stopping at a few beautiful islands along the way. And nobody ever starves to death on a cruise ship. On the Country Music Cruise, you can eat from the time you get up in the morning until the time you go to bed at night, if you want to. The food is excellent, the rooms are excellent. The view of the ocean going by is just fabulous. But it's the music."
Other artists appearing on the 2023 Country Music Cruise include Pam Tillis, Mark Chesnutt, Asleep At The Wheel, Johnny Lee, Jimmy Fortune, T.G. Sheppard, Gary Morris, Darin & Brooke Aldridge, The Malpass Brothers, Ray Scott, Karen Hester – A Tribute To Dolly, Gil Grand "The Grand Tour," 50 Shades of Hay, Chuck Mead, and Tim Atwood & Chrissy Sparks, with more artists expected to be announced.and more to be added. In addition, both the Elvis Tribute Artists and a very special Grand Ole Opry at Sea will also occur.
The 2023 Country Music Cruise, which features more than 100 different live performances, will leave Ft. Lauderdale on the Nieuw Amsterdam on Sunday, January 22, and make stops in St. Maarten and San Juan before returning on January 29. Fare for the Country Music Cruise includes concerts, daily meals, activities and more. Find more information at CountryMusicCruise.com.