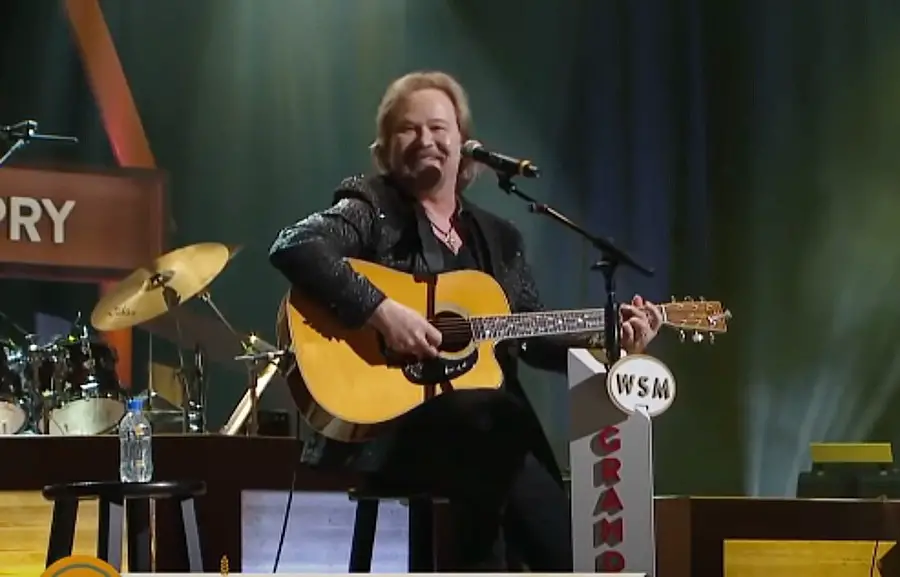 Travis Tritt is one of the few artists whose music has managed to stand the test of time, without caving to the latest trends or newest fads. The Grand Ole Opry member released his debut single, "Country Club," in 1989, and stayed consistent — and relevant — since then, a rare feat for any artist. Tritt has released more than 40 singles, in a career that has spanned over 30 years, and is still going strong. We count down ten of Tritt's biggest hits.
10. "Anymore"
Tritt and Jill Colucci wrote "Anymore," a sad song about a love that was let go, before he realizes he wants it back. Tritt and Colucci started writing the song on an airplane, after Colucci gave Tritt the melody, finishing it in the studio later. The song, which shows Tritt's softer side, was a No. 1 hit for him.
9. "Lord Have Mercy On The Working Man"
Kostas wrote this song, which Tritt took into the Top 5. "Lord Have Mercy On The Working Man" is a humorous look at life of the average, blue-collar working man. The video included footage of several politicians and celebrities, including Ronald Reagan, Jim Bakker and Donald Trump. The final chorus featured background vocals from several country artists, including Brooks & Dunn, George Jones, Tanya Tucker, Porter Wagoner and more.
8. "Best of Intentions"
Tritt wrote "Best of Intentions" by himself, about a man who had dreams of things he wanted to do for the woman he loved, which sadly never came to fruition. The video for "Best of Intentions" was filmed at the Tennessee State Penitentiary, with Tritt portraying a prisoner in jail for a crime he didn't commit.
7. "Tell Me I Was Dreaming"
Tritt wrote "Tell Me I Was Dreaming" with Bruce Ray Brown, about a broken heart after a woman tells him she no longer loves him. But it's the video that earned the song plenty of attention, the second of three songs in a trilogy that told the story of crippled U.S. Army veteran Mac Singleton. The video has been cited as one of the saddest country music videos of all time.
6. "The Whiskey Ain't Workin'"
Tritt enlisted the help of his good friend, Marty Stuart, to record this song, which Stuart wrote with Ronny Scaife. From Tritt's It's All About to Change record, the song earned Tritt the first of his two Grammy Awards he has ever won, for Best Country Vocal Collaboration.
5. "Help Me Hold On"
Tritt celebrated his first No. 1 hit with "Help Me Hold On," from Country Club. Written by Tritt and Pat Terry, "Help Me Hold On," which landed at the top of the charts in Canada as well, was an early indicator of Tritt's abilities as a singer, showing off a softer and tender side of his vocal delivery.
4. "T-R-O-U-B-L-E"
Elvis Presley first recorded "T-R-O-U-B-L-E," which was written by Jerry Chesnut, and released as a single. But it was Tritt who made it a country hit, when he made it the title track of his third studio album. Although the song didn't quite make it into the Top 10, the song is one of Tritt's most popular hits, and a regular in his setlist.
3. "I'm Gonna Be Somebody"
Also from Country Club, "I'm Gonna Be Somebody is one that Tritt didn't write, but sounds like he could have. Written by Jill Colucci and Stewart Harris, about a fictitious person named Bobby, who dreams of being a country star, the song in many ways mimics Tritt's early years, when he was pondering making music a full-time job.
2. "Here's a Quarter (Call Someone Who Cares)"
Tritt wrote this song by himself, for his sophomore It's All About to Change album. The song was, perhaps unfortunately, inspired by his own circumstances at the time.
"I was at home one day. My wife had moved out in the middle of the day, while I was at work, and I came home to basically an empty house," Tritt recalled to The Boot. "I thought I had been robbed: The front door was standing wide open, the back door was standing wide open, and you could see right through the house, and everything that was in it was basically gone. I was sitting in my living room, in one of the one or two pieces of furniture that she had left behind, and there was a knock on the door. It was from the sheriff's department: They were serving me with divorce papers."
Tritt was still assessing the damages when his now ex-wife called him saying she might have had a change of heart, but for Tritt, it was too late.
"I wrote that song in about 15 minutes; it just came to me," he recalled. "It's a song I wrote never considering to release it. I wrote it because it was a personal song for me to pick me up whenever I would get depressed over my personal situation."
1. "It's a Great Day to Be Alive"
If there's a song that is a perfect life motto, "It's a Great Day to Be Alive" could be it. Written by Darrell Scott, it was first recorded by Jon Randall, before Tritt included it on his Down the Road I Go album, released in 2000. The song was also included on his 2007 The Very Best of Travis Tritt record as well. Other artists have covered it, both in the studio and in concert, including Dustin Lynch and Niko Moon, but Tritt's version remains the standard.