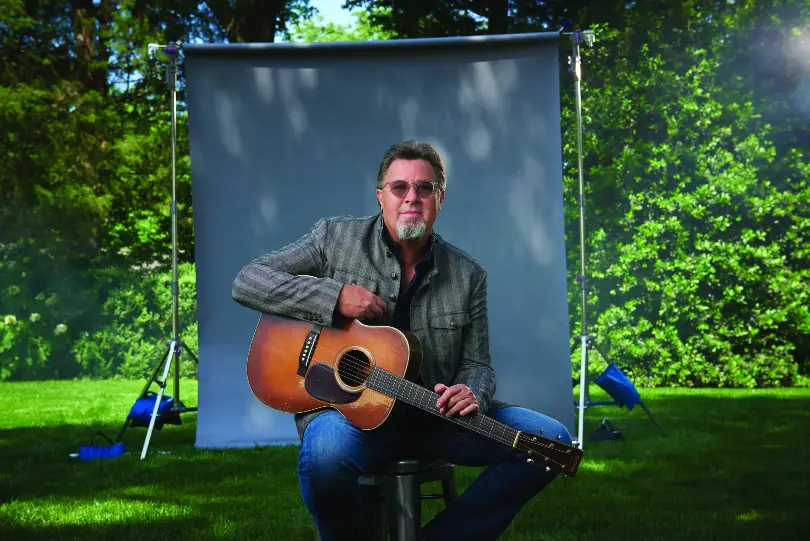 Vince Gill had his first break in more than 45 years, due to the pandemic. Before that, Gill remained one of the busiest musicians in music, thanks to his dual role as a country solo artist, and a member of the rock band, the Eagles, which he joined in 2017, to fill a spot left vacant after founding member Glenn Frey passed away.
While Gill is grateful for the chance to perform with the iconic band, the 64-year-old says performing his own songs will always be his first priority.
"I've invested most of my life in my career and those songs," Gill tells Variety. "I'm more than willing to chip in and help out and do this gig with Don [Henley] and everybody. But I feel like I have a responsibility to all those people and those crew guys who've been with me for 30 and 35 years and more, and people that have bought those records and listened to them and love the songs."
It's with his fans and his crew members in mind that Gill announced he was embarking on a solo tour this summer, with The Voice alum Wendy Moten serving as his featured guest.
"It's a two-way street," Gill maintains. "I can't just say, 'Oh, I'm doing fine, I don't need to do that anymore.' 'Cause that's a whole lot of who I am, you know? My songs were tailor-made for me to sing and for me to play, and the melodies are such that I do what I do best on a lot of those songs. So I miss that."
Gill was eager to join the Eagles when he was invited, even if he knew that some of their fans rightfully had some trepidation about the Country Music Hall of Fame member having a role in the group.
"The first gig that I did with them, I could feel the apprehension in the crowd, and it made total sense," Gill recalls. "'Take It to the Limit' was the first song I sang, and I could feel after the first chorus everybody just take a deep breath and go, 'I think it's gonna be OK.' I honestly could feel that from them; it was really palpable and really quite beautiful."
Still, while Gill has no plans of abandoning his country music for the Eagles, he is beyond grateful for the chance to perform with the historic group.
"It's an unbelievable opportunity and a good hang," Gill says. "Everything about it is something I just can't even believe it's happened, and I'm grateful for it every time I get to go up there and continue to be a part of keeping that song catalog going. It's an amazing accomplishment Don and Glenn and Joe [Walsh] and Timothy [B. Schmit] and all those guys made, and all the former guys that played — Randy, Don [Felder] and Bernie [Leadon].
"I would have never believed that that would happen, and sadly it only did because of a tragedy and losing Glenn," he adds. "I've got a really healthy perspective of it, and I know I had nothing to do with any of it other than from this day forward. So I can't get the big head about it."
Find all of Gill's tour dates at VinceGill.com.
Photo Credit: Courtesy of EB Media / John Shearer