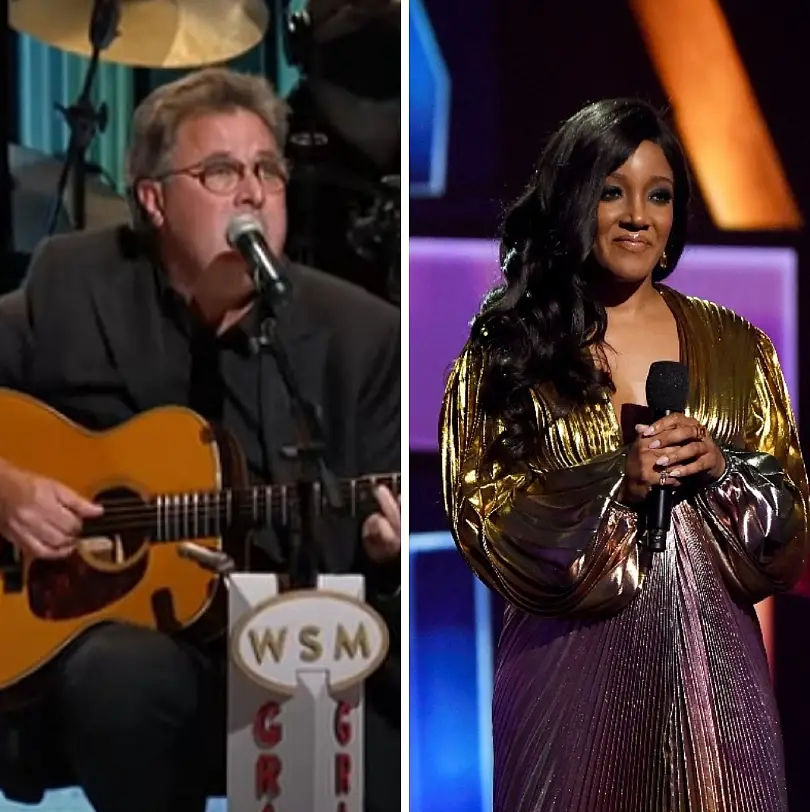 Vince Gill and Mickey Guyton have dropped a surprise duet, "Love Changes Everything." The song, written by Tom Douglas and J.T. Harding, is for the movie American Underdog: The Kurt Warner Story, in theaters on Christmas Day.
"I remember the first time I heard Mickey sing at an industry event," Gill tells Billboard. "I went and introduced myself and told her that someday we'd sing together because I really loved her voice. Finally, that has come true. This great Tom Douglas song is better because of her being a part of it. I look forward to seeing this movie because I'm a big sports nut and I think a lot of Kurt."
Gil might have been a fan of Guyton, but Guyton has also been a fan of the Grand Ole Opry member, for years.
"I've always been such a big fan of Vince's," Guyton gushes. "Beyond his incredible voice and musicianship, no one has a bigger heart for giving back to the community and lifting people up like Vince. For him to ask me to be on 'Love Changes Everything' and to get to work with him on such a beautiful song was just so special."
Robert Deaton produced "Love Changes Everything for the movie, which shows not only Warner's incredible football career, but his love story with his wife, Brenda, as well. It's a story Deaton was eager to help tell through the song in the film. Deaton first asked Gill to sing on the song, before he realized he wanted a female voice on it as well.
"After all, it's just as much Brenda's story as Kurt's," Deaton reflects. "I had just worked with Mickey Guyton on a television special and I loved her voice so much, but I also loved her as a person. So, I asked her to be on the track and I am so lucky she said yes. I hope the song can connect to other people and relate to them in their own life and realize that love changes everything."
In American Underdog: The Kurt Warner Story, Zachary Levi plays Warner, while Anna Paquin plays Brenda. Dennis Quaid stars as coach Dick Vermeil. The soundtrack will be released on December 24.