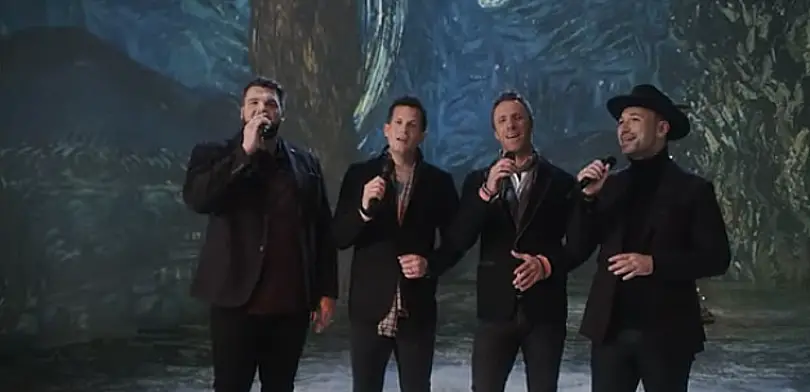 Jake Hoot and The Tenors took their holiday "When Christmas Has Come and Gone" song to The Kelly Clarkson Show. Clarkson praised Hoot ahead of their performance, for his success since winning Season 18 of The Voice.
"I teamed up with my next guests back in 2019, as a coach on The Voice. I'd say we did all right, y'all, 'cause he won," Clarkson said. "Now he's collaborating with Canadian supergroup The Tenors, on a beautiful song for the holidays. You're gonna love this performance."
Hoot previously revealed on social media that their performance was taped in The Tenors' native Canada, at the Immersive Van Gogh Exhibit in Toronto.
It was Hoot and Clarkson's performance of The Tenors' version of "Wintersong" on The Voice that sparked a friendship between Hoot and the trio.
"Ive been a huge Tenors fan for a long time," Hoot recalled to Everything Nash. "Kelly and I were supposed to sing 'Whiskey Lullaby' together, and then they told her last second, 'Hey, it has to be a Christmas song.' And so I said, 'Let's do 'Wintersong,' but let's do The Tenors' version of the song.' Kelly heard it and the band heard it, and everybody fell in love with it. And then shortly thereafter, The Tenors reached out, and they've just been incredible supporters, incredible friends since that whole thing. So that's kind of where it started."
Hoot has had plenty of career highlights since winning The Voice, including opening for Alabama and performing on the Grand Ole Opry, but says the "When Christmas Has Come and Gone" with The Tenors will always be a career highlight for him.
"Working with these guys has just been an absolute honor," Hoot gushed. "For me to work with guys that I've idolized in the music industry for years … I'm not classically trained, but I've always loved opera music and I love what they do. And so to have them write a song with me and then also sing on it, it's a dream come true."
Hoot also recently announced he will release "in the Garden" with Season 18 winner of The Voice, Todd Tilghman, next year. Hoot's music is available at JakeHoot.com.