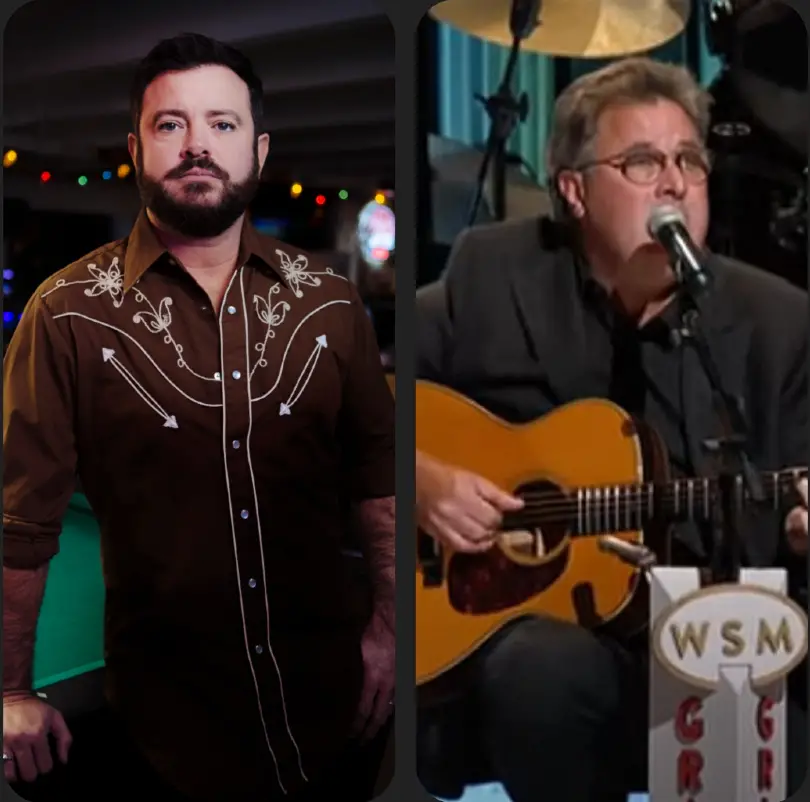 Wade Bowen is back with new music, this time in the form of a duet with Vince Gill. Bowen just released "A Guitar, A Singer And A Song," with the Country Music Hall of Fame member. The track is from Bowen's forthcoming Somewhere Between The Secret And The Truth album, which will be released on August 12 on Thirty Tigers.
"The whole point of doing what we do is to not be forgotten, to try to leave a mark on the world with a guitar and with your songs and with your voice," Bowen says of the inspiration behind the song, which he wrote with acclaimed songwriter, Lori McKenna. "We don't think about it until we get a couple decades into our career: 'Have I done enough that people will remember me?'"
Bowen had no idea when he sat down to write with McKenna, who also collaborates with him on another song on Somewhere Between The Secret And The Truth, that the end result would be a stunning duet with Gill.
"I love that this song got written because it seemed for a second there that it was not meant to be," Bowen recalls. "When I brought the idea to Lori, of course she's the kind of person that was just like, 'Oh yeah, I see what you're talking about there.' I'm so thankful for her friendship that helped turned this idea into the right lyrics."
The song also earned high praise from Gill, who says he is honored to join Bowen on the new tune.
"Wade is a great artist and this is a great singer, singing a great song," Gill says. "That never goes out of style. I'm grateful to be a part of it."
Bowen, who released his Where Phones Don't Work EP last fall, has enjoyed working with Nashville songwriters again, after years of making music in his native Texas, following a record deal with a major label early in his career.
"I started reconnecting with Nashville a lot more, and that really has helped me during the project," Bowen told Everything Nash. "I have a new manager now, and she's really done a great job of getting me back into that mode. I kind of clocked out for a while after all the Sony stuff. And so, she's done a really good job of convincing me that this town really, really does still embrace me quite a bit."
See a track list for Somewhere Between The Secret And The Truth below. Find "A Guitar, A Singer and A Song," and all of Bowen's music by visiting WadeBowen.com.
Somewhere Between The Secret And The Truth Track List:
1. Everything Has Your Memory (Wade Bowen, Eric Paslay, Heather Morgan)
2. Burnin' Both Ends of the Bar (Wade Bowen, Randy Montana)
3. Honky Tonk Roll (Wade Bowen, Randy Montana)
4. The Secret To This Town (Wade Bowen, Heather Morgan)
5. If You Don't Miss Me (Wade Bowen, Ray Fulcher)
6. A Beautiful World featuring Lori McKenna (Wade Bowen, Lori McKenna)
7. She's Driving Me Crazy (Wade Bowen, Eric Paslay, Heather Morgan)
8. Knowing Me Like I Do (Wade Bowen, Clint Ingersoll)
9. It's Gonna Hurt (Wade Bowen, Drew Kennedy)
10. Say Goodbye (Wade Bowen, Eric Paslay, Heather Morgan)
11. A Guitar, A Singer and A Song featuring Vince Gill (Wade Bowen, Lori McKenna)
12. Somewhere Between The Secret and The Truth (Wade Bowen, Lori McKenna)