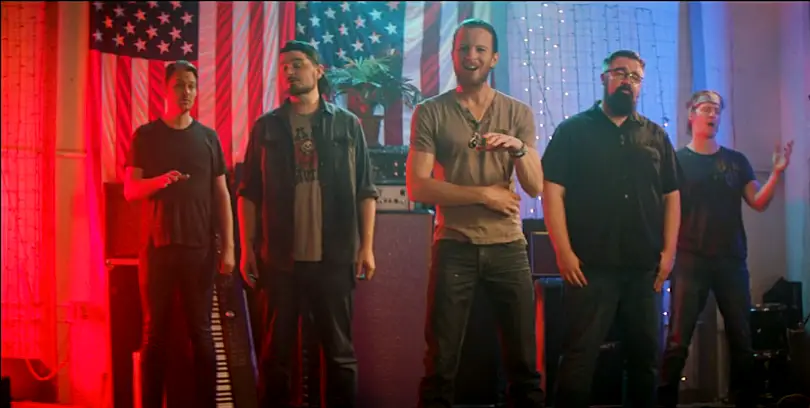 Home Free's latest cover is a new spin on a classic rock hit. The five-man group just covered "Listen To The Music," written by Tom Johnston and recorded by The Doobie Brothers. Released in 1972, the song was the The Doobie Brothers debut single from their sophomore Toulouse Street album. Although the track is 50 years old, it sounds brand-new again, thanks to Home Free's take on the feel-good tune.
Home Free didn't include "Listen To The Music" on their latest The Sounds of Lockdown album, which is filled with covers that were recorded during the pandemic. But there's a good chance they'll play the song on their Road Sweet Road Tour, which kicks off on September 13 in Anaheim, California. Maggie Baugh will join the group for the first set of dates, followed by Casey Barnes, who will join Home Free for three dates, and Erin Kinsey joining them for 11 dates.
Their Road Sweet Road Tour comes after the group wrapped up their Dive Bar Saints Tour, Home Free had to unexpectedly come off the road in early 2020, due to the pandemic, and stayed off of the road, and away from their fans, until it was safe to travel and tour again.
"This was FAR from an easy tour… but we made it though with support from each other and our amazing crew, and, most importantly, our incredible fans," Adam Chance later posted on social media, after the tour's final show. "Thank you for helping us get through this roller coaster of a run."
Home Free has been able to sell out massive arenas all over the world, thanks to their unique and unconventional sound. While they are grateful for their success, Austin Brown says some of the credit for their success goes to the late Kenny Rogers, and advice he gave them early in their career.
"He talked to us for hours, telling us stories about Nashville, about country music, about all the stars, about what it's like," Brown recalls to YouTube's Jacob Restituto. "He told us a story about his career. He said, 'Boys, just let me tell you something. Don't worry about today, man. You guys are gonna be here for a while, and you don't want to rise fast. The slower that you rise to the peak of your career, the much more graceful your longevity will be on its decline.' … It really meant a lot. We learned a lot that day."
Find Home Free's music and tour dates at HomeFreeMusic.com.