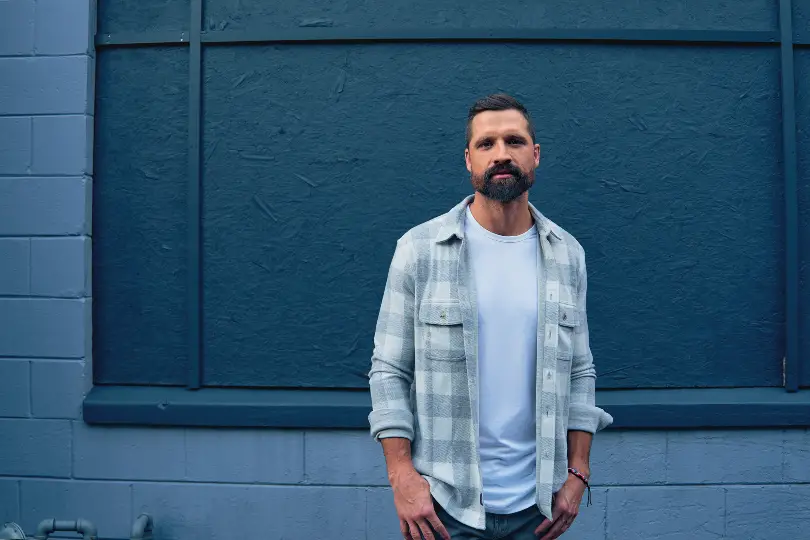 Walker Hayes was in Las Vegas over the weekend for the 2022 Grammy Awards, where he was nominated for Best Country Song, for "Fancy Like."  Hayes didn't win the Grammy, which went to Chris Stapleton for "Cold" instead. But even without the coveted trophy, the Alabama native says he already feels like a winner because of the industry recognition.
"We were just mind-blown," Hayes said on the red carpet ahead of the ceremony. "We really were. I just love my job, and so I don't do it and sit around and think, 'Hey, let's aim for an award.' So when you're blind-sided with this nomination, it was humbling, and it just made me think of my team, and all our lives, and how we all collided there to write this song. It will take me a minute to process, honestly."
The singer and his wife, Laney, enjoyed a kid-free weekend away from their six children, where they determined to soak up their time together, which Hayes thought might include renewing their wedding vows with an Elvis impersonator.
"We love sushi. So we're gonna try to locate a great sushi restaurant after, whether we win or lose, and just enjoy ourselves," Hayes revealed. "We're big fans of the fountains too. It's very nostalgic, so we'll probably hit that, and then stay up late. We're not big gamblers, so that's about it. We thought about going and doing the renewing our vows thing with Elvis while we're here. I thought that would be fun, but it's pretty pricey. I thought it was probably a couple hundred bucks. No. It's like [$500]."
Hayes credits much of his success not only to his team, but to his wife of almost 18 years, who believed in him when he had at times given up on himself.
"In a very humble way, she would say she's not surprised," Hayes told ABC News of his first Grammy Awards nomination. "She's always believed in me that much. Laney has … believed in me more than I have for many years, so she's really a lot of the reason we're all standing up and dancing."
Find all of Hayes' music and tour dates at WalkerHayes.com.
Photo Credit: Courtesy of EB Media / Robert Chavers