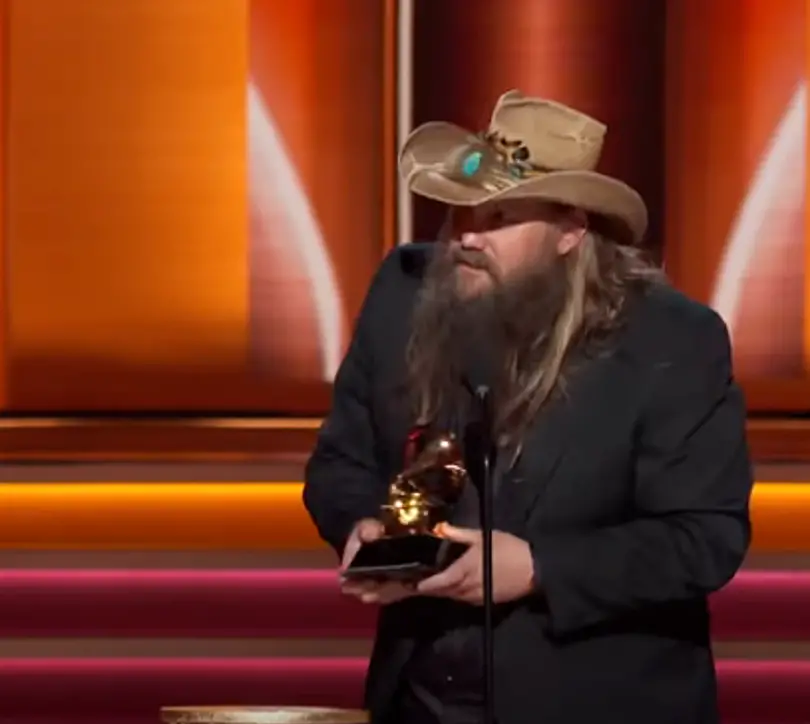 Chris Stapleton, Brothers Osborne and Carrie Underwood all have new trophies to add to their collection. Stapleton was the biggest country artist winner of the night, with three trophies. The reigning ACM Male Artist of the Year won Best Country Solo Performance for "You Should Probably Leave," Best Country Album, with Starting Over, and Best Country Song for "Cold," sharing the latter category with fellow songwriters Dave Cobb, J.T. Cure and Derek Mixon.
Stapleton, who now has a total of eight Grammys, honored his twins while accepting the Grammy for Best Country Album.
"I'm a dad of five, and today is my twins' birthday," Stapleton, who also performed "Cold" during the broadcast, said. "They're four years old. So I'm thinking a lot about sacrifices, 'cause I missed out on some of their birthday today. Everybody in this room has made some kind of a sacrifice to be up here doing this, and I don't know what it is for everybody, but I know that it hurts sometimes.
"But hopefully we're all doing it so we make the world a better place, and the people that live in it will love each other and have a good time together and come together," he continued. "So thank you so much for this award,"
Brothers Osborne won Best Country Duo/Group Performance for "Younger Me," giving the sibling duo their first Grammy, even though they have been nominated a total of nine times.
"I don't know what to say," John Osborne said from stage. "I'm really nervous. I want to thank my wife. I want to thank my little brother for always being great. I think if I want to thank somebody, I want to thank my younger self for just pursuing this. We all have a younger self in us. Thank them because they got you here, and take care of that person."
The industry recognition was especially meaningful to TJ Osborne, who revealed he was gay last year.
"It was written in response really to me coming out. I never thought that I would be able to do music professionally because of my sexuality," an emotional T.J. said. "I certainly never thought I would be here on this stage accepting a Grammy, especially after having done something that felt like was going to be life-changing potentially in a negative way. And here I am tonight, not only accepting this Grammy Award with my brother, which I love so much, but I'm here with a man that I love and who loves me back. I don't know what I did to get so lucky."
Underwood won Best Roots Gospel Album, for My Savior. The mother of two, who also performed her new single, "Ghost Story" during the ceremony, spoke backstage about the honor of winning her eighty Grammy.
"This album is one that I have always wanted to make," Underwood said. "It came at the right time and it was just so important to me. So the fact that I get to take this home, it's blowing my miind. My heart is so full, and I'm so proud of it. I'm really excited and happy."