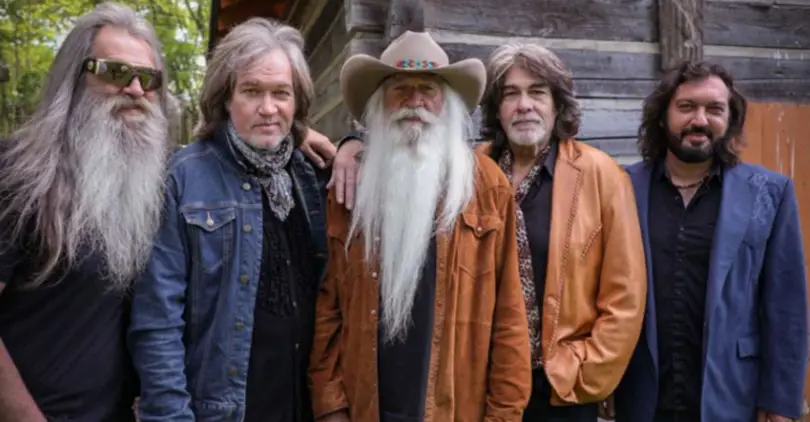 The  Oak Ridge Boys have been a member of the Grand Ole Opry since 2011, and still frequent the sacred stage, but one of the group's members will soon make his debut with a different group. William Lee Golden will make his debut on the Grand Ole Opry on Wednesday, June 29, this time with his band, The Goldens, made up of his sons Rusty, Craig, and Chris.
Chris shared the exciting news on social media of the group's upcoming performance.
I have been blessed to play the Opry with other bands, @RestlessHeart__.and @oakridgeboys..and now extra proud to be making our @opry debut as a family. This Wednesday night…3 generations in the circle. #honored pic.twitter.com/yIUBVsivDK

— Chris Golden (@thechrisgolden) June 27, 2022
William Lee Golden & The Goldens released their three-record collection, Golden Classics, in March.
"Going into the studio with my boys was a dream come true," Golden said of recording Golden Classics. "At times, I wondered if it was ever going to happen. Now, after nearly two years since starting this project and what turned into a three-volume set will finally be available for the world to hear. We actually went back into the studio to record "Take It Easy" since this year marks the 50th Anniversary since its release with the Eagles."
Golden has been a member of The Oak Ridge Boys for decades, but he has also enjoyed highlighting his sons' talents as part of The Golden Boys, especially with Golden Classics.
"I raised my boys to love all types of music and it really shows in each song," Golden told Billboard. "My sons are extremely talented and have had success on their own as solo artists and songwriters. My grandson Elijah and granddaughter Elizabeth were both included on several songs throughout the project. You can truly feel the family dynamic throughout all three CDs, which is something you rarely hear these days."
Golden Classics includes songs like "Take Me Home Country Roads," "You Are My Sunshine," "Bobbie Sue," "Why Me, Lord" and "Softly and Tenderly," among others. The album is available for purchase here.
William Lee Golden & The Goldens will be joined on June 29 at the Grand Ole Opry by Tom Douglas, Adam Doleac, Mark Wills, Mandy Barnett, Gary Mule Deer and Kameron Marlowe and Riders In The Sky. Tickets are available at Opry.com.