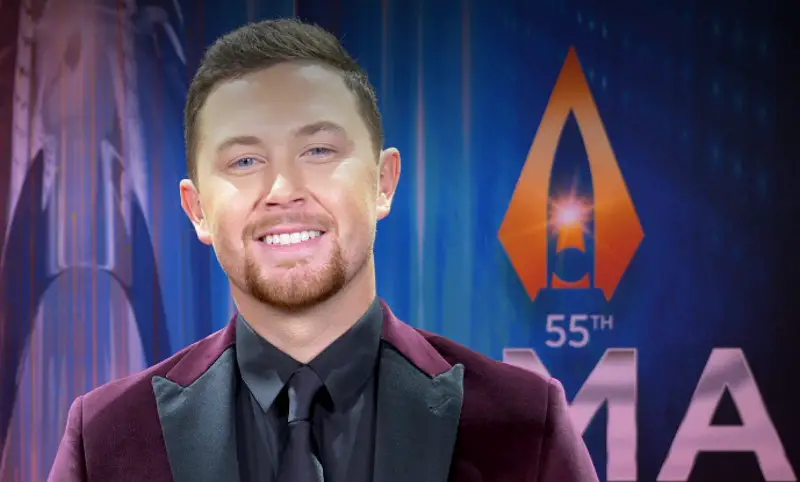 Scotty McCreery is so happy that everyone finally gets to share in the excitement that he and his wife, Gabi,  are expecting their first child, a boy, this November. McCreery and his wife of four years, kept the news a secret for a few months, before finally announcing the good news to the world.
"It's been exciting times in the McCreery household," McCreery tells The Music Universe. "We're glad the cat's finally out of the bag. We're super excited … Very exciting. It's been tough to keep it a secret for a while. Now we don't have to hide anything, and we can share it with everybody."
The 28-year-old acknowledges that he and Gabi kept the secret as long as they could, before Gabi's pregnancy began to show too much.
"For us, it was one of those things where we just kind of treasured that initial time with just ourselves and just family and friends knowing, and not being too public," McCreery says. "But after awhile, with this kind of thing, you can't really keep the secret too much longer. She's doing great. She's starting to show."
McCreery admits that they don't have a name for their new son yet, especially since he was pretty sure his first child would be a daughter instead.
"Not a name yet," says the singer. "We were expecting, at least I was — I think Gabi might have thought it was a boy — but I was thinking it would be a girl, and we had a really cute girl name picked out. But we do not have a boy name yet, so we have to get on it."
McCreery has plenty of tour dates on the calendar for the remainder of summer and early fall, while he and Gabi eagerly await becoming first-time parents. But when the American Idol alum is home, he is fully focused on his wife and making her life as easy as possible.
"She's the one doing all the work," McCreery maintains. "I'm doing good. I'm just trying to do the best I can to make life easier on her, help out where I can. I think that's my role for the next few months. I'm excited. It's going to be a totally different thing for us, unchartered waters, but I can't wait for the challenge. I can't wait to see the little man grow up and be there for him and learn. I know life is going to change a lot, but change in the best way."
The "Damn Strait" singer says the timing of becoming parents couldn't have been better, as his career continues to gain momentum.
"We always knew we wanted kids, but we always knew we wanted the first few years to travel and have time on the road, to see things and experience life," McCreery McCreery tells People. "We've gotten to live a lot of life and do some cool things, so seems like now's a good time to settle down a little and expand the family,"
Find all of McCreery's music and tour dates here.