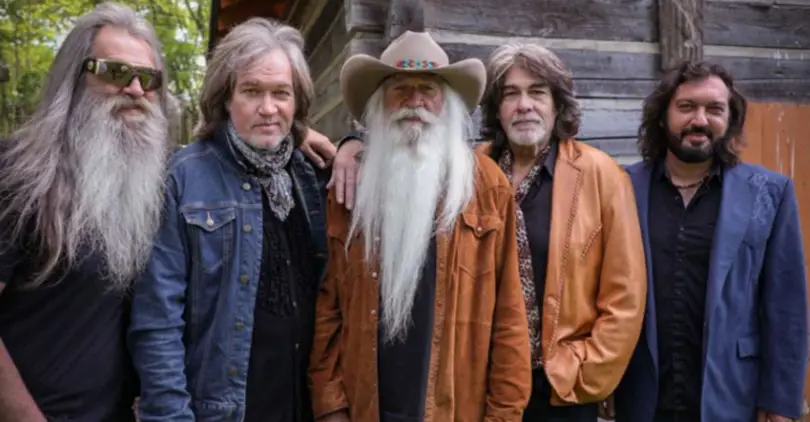 William Lee Golden might be known for his work with the Oak Ridge Boys, but he has another group he is part of, this one a family affair. The 83-year-old is also part of The Goldens, which includes Golden and his sons Rusty, Craig, and Chris. The group will release a three-record collection, Golden Classics, on Friday, March 25, and is giving Everything Nash a sneak peek at one of the songs, "Take Me Home Country Roads," ahead of the album release.
"Throughout the years, 'Take Me Home, Country Roads' became a standard in our home," Golden says. "I have been on the road since before my boys were born and they grew up in this way of life. Nothing rings louder, when it is time to come home."
"Take Me Home Country Roads" is on the Country Roads album, one of the Golden Classics' records, which also includes classic songs like "You Are My Sunshine," "Green Green Grass of Home," "I Saw the Light" and more.
"Going into the studio with my boys was a dream come true," Golden says of recording Golden Classics. "At times, I wondered if it was ever going to happen. Now, after nearly two years since starting this project and what turned into a three-volume set will finally be available for the world to hear. We actually went back into the studio to record "Take It Easy" since this year marks the 50th Anniversary since its release with the Eagles."
Other songs available on Golden Classics include "Take It Easy," "Elvira," "Softly and Tenderly," "Stand By Me" and more. See a complete track list for all three albums on Golden Classics below. Order the music here.
Country Roads
1. I Still Miss Someone
2. Four Walls
3. Welcome To My World
4. Take Me Home Country Roads
5. You Are My Sunshine
6. The Great Speckled Bird
7. Green Green Grass Of Home
8. Send Me The Pillow That You Dream On
9. For The Good Times
10. I Saw The Light
Southern Accents
1. Take It Easy
2. Me And Bobby McGee
3. The Long And Winding Road
4. Stand By Me
5. Jambalaya
6. Peaceful Easy Feeling
7. Long Black Veil
8. Southern Accents
9. Elvira
10. Multi-colored Lady
11. Bobbie Sue
12. Hollywood Nights
Old Country Church
1. Come And Dine
2. Old Country Church
3. It's Suppertime
4. If I Could Hear My Mother Pray Again
5. Until Then
6. Why Me, Lord?
7. I Know Who Holds Tomorrow
8. Too Much To Gain
9. Sheltered
10. Softly And Tenderly
11. Love Lifted Me
12. Power In The Blood