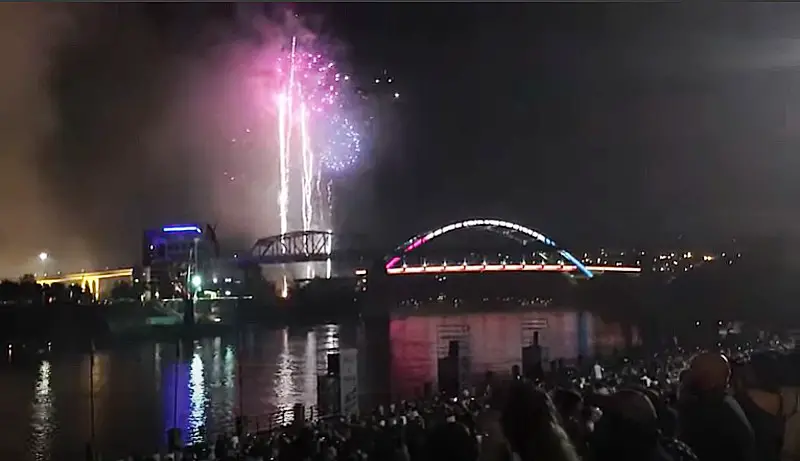 The 4th of July weekend is here, and Nashville has more fun events planned than ever before! While there are far too many to mention, we have all the details on on ten fun ways to celebrate Independence Day in Music City, with fireworks, food, wine and more.
1. Let Freedom Sing!
Brad Paisley will headline Let Freedom Sing!, with the Nashville Symphony coordinating their music with one of the biggest fireworks displays in the country. Priscilla Block, Regi Wooten and Friends, and Lilly Hiatt will also perform. The event is free and open to the public.
Find parking information at NashvilleDowntown.com, and for a complete list of downtown bars hosting events associated with Let Freedom Sing!, visit NashvilleGuru.com.
2. Ole Red
There are plenty of events downtown that combine music, food and fireworks, but if we had to pick just one to go to, we would choose Ole Red. The venue will feature some killer entertainment, from former The Voice contestants. Todd Tilghman will take the stage on July 2, while Ricky Duran will perform on July 4, and Jake Hoot will sing on July 5. See the complete lineup here.
3. Ryman Street Party
The Ryman Auditorium will host their two-day Ryman Street Party, taking place July 3 and 4. The event will feature free live music, food trucks, local vendors, family activities and more. A limited number of  Hatch Print mystery grab bags will also be available. The Ryman Auditorium will be open for tours as well. Find details at Ryman.com.
4. Rosé in the USA Festival
What could be better a better way to celebrate summer's biggest holiday than music and wine? Rosé in the USA Festival will be held on July 3 and 4, and feature stations to sip Rosé, champagne vending machines, as well as other wine and beer options, plus family games, food and drink, live music and much more.
5. Music City Hot Chicken Festival
The temperature outside will likely be hot, so why not enjoy some hot chicken as well? The Music City Hot Chicken Festival is FREE, and will take place on Sunday, July 4. The festivities begin at noon, with a fire truck parade. In addition to plenty of hot chicken, there will be an amateur cooking competition, and other food vendors, as well as Yazoo beer.
6. Music City 4th of July 5K
Before diving into all of the picnic food to celebrate the 4th of July, why not start the day by burning some calories? The Music City 4th of July 5K takes place in the Edgehill community of Nashville. Each runner will receive a T-shirt and a medal! Find information here.
7.  Nashville Shores Fireworks
What better place to enjoy fireworks than over the water? Nashville Shores will have a fireworks show on Saturday, July 3. Known for their elaborate fireworks displays, admission to the stunning show is included with the price of admission or with a season pass.
8. Bluebird Cafe Open House
The Bluebird Cafe has been closed since the start of the coronavirus pandemic, but the venue will be open on July 3, from 10:00 to 2:00, to see inside the venue, take pictures and purchase souvenirs. Ticket information can be found at their website.
9. Franklin on the Fourth
Head just outside of Nashville to historic Franklin, Tennessee, for their annual Franklin on the Fourth event. Held on July 4th in the downtown square, in the heart of Franklin, the event includes vendors, local food, live music and much more. Stay in Franklin to enjoy fireworks that night at The Park at Harlinsdale Farm.
10. Red, White and Boom in Brentwood
Crockett Park in Brentwood will host their annual Red, White and Boom event, at the Eddy Arnold Amphitheater in Crockett Park, from 7:00 to 10:00 PM. Tim Akers and the Smoking Section will perform ahead of the fireworks, which will begin at 9:00 PM. Food trucks will be available.