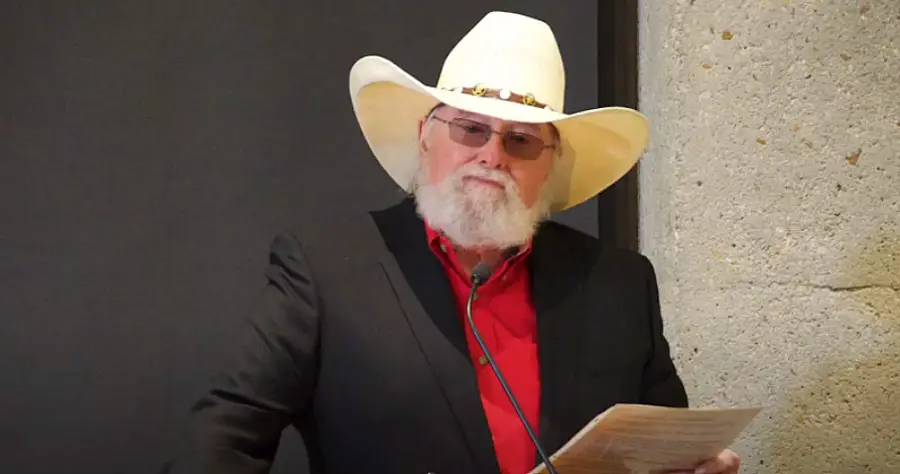 Two years ago today, on July 6, 2020, country music lost one of its biggest superstars. It was on this day that Charlie Daniels passed away, at a hospital near Nashville, after suffering a hemorrhagic stroke.
Daniels was born in Wilmington, North Carolina, and from an early age was exposed to a wide variety of musical styles. By the time Daniels graduated from high school, he was able to play multiple instruments, including guitar, mandolin and fiddle.
In 1953, Daniels started a bluegrass band and wrote his first song. Although the song was not a huge success, the idea that something he wrote was also recorded was the inspiration he needed to keep making music.
"The first thing I wrote that was recorded was in the late 50's but it was nothing really big," he later said.
In 1959, Daniels had already been in several rock and R&B bands. He joined the Jaguars, a band he stayed with until 1967, although he continued writing music, including "It Hurts Me," which was recorded by Elvis Presley in 1964.
By 1969, Daniels was working as a producer for other acts, including producing the album Elephant Mountain by the Youngbloods. He also became a sought-after studio musician, playing on three Bob Dylan albums and several songs by Leonard Cohen. But by 1970, Daniels was ready to be on his own, recording his first solo album, Charlie Daniels, on Capitol Records. Daniels released two more albums, Te John, Grease, & Wolfman and Honey in the Rock, before he would finally have a hit at radio, with "Uneasy Rider," which landed in the Top 10.
In 1972, Daniels formed his own The Charlie Daniels Band, a group that remained with him until his death. Although he released numerous more singles, he didn't have another Top 30 hit until "The South's Gonna Do It," which was released in 1975.
In 1979, Daniels released "The Devil Went Down to Georgia," which was a hit on both rock and country charts. The song became Daniels' signature song, and was recorded by numerous other artists, including Home Free and Nickelback, among others. But although the song turned Daniels into a mega-star, he still has some regrets about the original version of the song, which had "I done told you once you son of a bit– / I'm the that's ever been," later changing the words to "son of a gun" to reflect his Christian beliefs.
As well known as Daniels became for his music, he became equally well-known for his Volunteer Jam, which began in 1974 as a way to record several of his songs live, and turned into multiple star-studded shows. Proceeds later benefited his charitable The Journey Home Project, a non-profit Daniels began in 2014 to help veterans returning from serving, as well as their families.
"The agencies that are tasked with helping our folks who come back from their service are all bureaucracies," Daniels told The Tennessean. "They are slow by nature. A lot of veterans' needs are immediate. If someone has PTSD, he can't wait. They need help today."
In 2008, Daniels was inducted into the Grand Ole Opry, fulfilling a dream he held since childhood.
"There was a time when I could not imagine even going to the Grand Ole Opry," Daniels said in 2015 at a press event. "I used to sit around as a kid, thinking, 'What does it look like? What is it like? What would it be like to actually walk in there and sit down and see the show?'"
Daniels was invited to join the Opry by Martina McBride, later inducted by Marty Stuart and his wife, Connie Smith.
"To be able to be a member and to have my name linked with my heroes is some pretty heady stuff for a guy that loves music and loves the Grand Ole Opry as much as I do," Daniels said at the time.
Daniels was thrilled to be a Grand Ole Opry member, but his biggest career success came when he was inducted into the Country Music Hall of Fame.
"The best way I know to explain it to you is, I've been trying to write a biography for 20 years, 25 years, something like that. And one of the things that kept me from finishing it is, I could never find — I don't want to call it a stopping place, because my career will go on after this — but I could never find a pausing place; I could never find a place to kind of tie it all together. And this will do it," Daniels told The Boot. "The night they hang my medallion around my neck, that's where my book will end. I finally have a stopping place that I can work toward now, and I can lead up to that."
Throughout his career, Daniels sold more than 13 million albums, and amassed numerous awards, including one Grammy, three ACM Awards and four CMA Awards.
Early in the morning on July 6, Daniels' wife, Hazel, called their son, Charlie Daniels, Jr., to tell him the country music icon was sick.
"I quickly drove up to the house and found mom and dad on the upstairs porch and dad was slumped over in his chair, I asked him if he could breathe, he nodded and tried to say yes, but it was obvious that he was very weak," Daniels, Jr. recalled. "I called 911, and while I was on with them, mom called dad's cardiologist and he told mom that he thought he was having a stroke which I relayed to the 911 operator."
Ultimately it was a stroke, and the family and Daniels' longtime manager, David Corlew, said their heartbreaking goodbyes to their husband, father and close friend.
"He was the strongest man I've ever known," Daniels' son said after his dad's death. "The best father, the best boss, the best friend I could ever ask for. My mom and I miss him terribly."
Vince Gill, Travis Tritt, Trace Adkins and Gretchen Wilson performed at Daniels' memorial service, which also included being honored by the military.
Donations to the Journey Home Project, renamed The Charlie Daniels Journey Home Project after Daniels' passing, can be made in his name here.