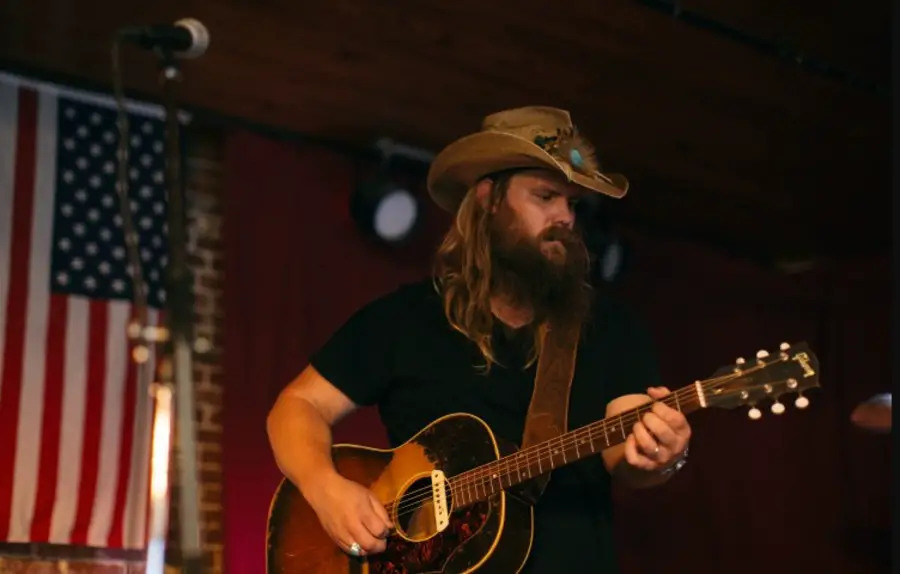 Chris Stapleton is a veteran songwriter, but even he can still learn new ways of writing, which he admits he did last year. While much of the world was shut down because of the pandemic, the 43-year-old began writing with co-writers online, opening himself up to a whole new world he admits he may not have otherwise discovered.
"I've only recently started to do a little Zoom writing," Stapleton said backstage at the ACM Awards. "I've tried some of that, and a lot of it with new people that I haven't written with before, and that's kind of an interesting thing. I enjoy all ways of writing. It doesn't necessarily bother me to do it. I prefer to be in a room with somebody; I prefer to be in the same general vicinity with somebody, because I think that informs in a different way. But it's been fun to find new ways.
"And certainly, for me, there are some things that have gotten written with some people that I normally wouldn't have written with, because of the pandemic," he added. "Absolutely, 100 percent, that has informed what I've been doing. We've all had to find new ways to do what we do, not just musicians. That's been part of it."
Stapleton performed "Maggie's Song" with Miranda Lambert during the ACM Awards ceremony, after his wife, Morgane, had to unexpectedly miss his performance.
"It's always very special, and I miss her very much tonight, but I'm also happy that Miranda agreed to fill in, kind of last minute," Stapleton said. "I think my sister-in-law is in labor right now. She may be on her way to the hospital, I'm not sure, so my wife is kind of on baby-watch, and for once not her own baby. It's been an interesting night tonight. Lots to celebrate, and the awards are just part of it."
Stapleton recently announced his All-American Road Show Tour will kick off in October, after being postponed because of COVID-19. While Stapleton has enjoyed time at home with Morgane and his five children, he is eager to get back on the road, and in front of his fans.
"I don't think there is anything that I am looking forward to more than that, and to get back out," Stapleton said. "The small victories we're having about reemerging and all of us getting to do things, and this is one of them tonight, for me, to get to come out and do this … I've been sitting at the house like everybody else, wondering when we get to get back out there and do things. And so, it was a really wonderful night for me, and there's nothing I'm looking forward to more than seeing the faces of people out in the crowd, and hearing them sing back to me, and hopefully hearing some of these new songs sung back to us. That's when music really gets live to me.
"I can write a song, and I can record a song, and I can sing it in a room by myself," he continued. "But it doesn't mean a whole lot until it goes out to somebody out in an audience, or somebody sitting at home, or somebody listening in their car. That's when it gets meaning. So, for me, that's the thing I'm most looking forward to, is to get back out in the world, and see people, and play music with them, and enjoy that experience that we have together, in a room, playing live music."