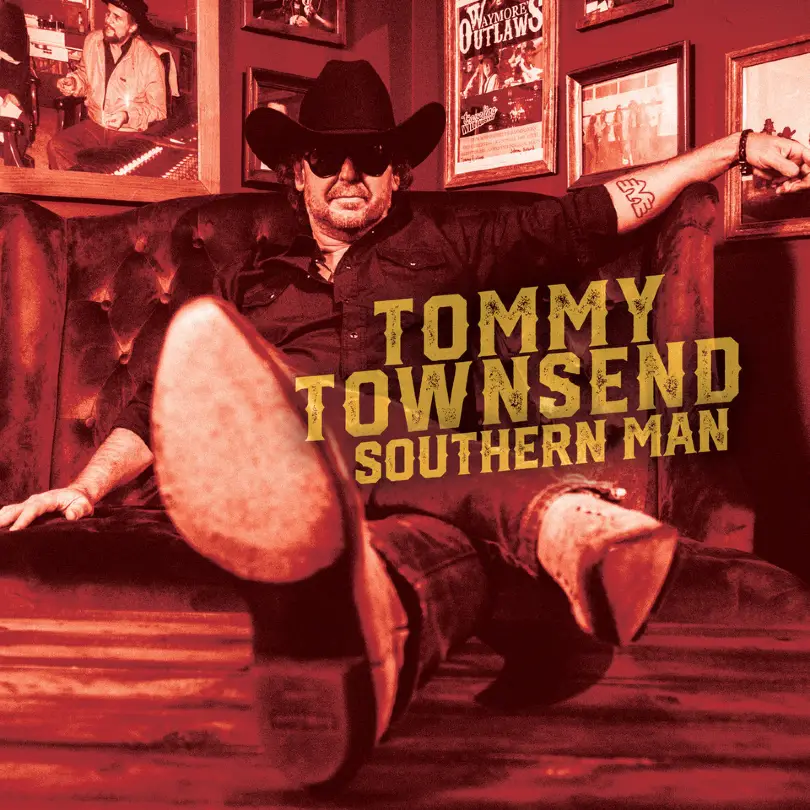 We now know when Tommy Townsend's highly-anticipated Southern Man album will be released, and what songs will b on the project. The record, which features the late Waylon Jennings' guitar and vocal on several of the tracks, will be released on April 29 on BFD?Audium Nashville.
"I'm super excited that this album that was produced by my mentors, Waylon Jennings and Jerry Bridges, is finally coming out for everyone to hear after all these years," Townsend says. "Getting to talk about these songs again after this long has brought back so many great memories of being in the studio with these two legends. I'm thankful to get to share this with all the fans, and especially Jerry 'Jigger' Bridges, who is still in my corner cheering me on. Special thanks to Chuck Rhodes and all the staff at BFD/Audium Nashville for bringing this album to the forefront. Y'all Rock!"
Townsend's history with the late country music icon goes way back, to when Townsend was just a child.
"I was probably 13 years old at a concert in Georgia," Townsend told Everything Nash of his earliest encounter with Jennings. "My parents were fans of Waylon, and I got to be a fan of his. The Hells Angels did security for him, and my parents got talking to one of the guys and said that I liked Waylon. They said, 'Well bring him down here after the show. Waylon loves kids.' So we met him at the backstage gate, and he came and got me. I stayed on the bus for about 20 or 30 minutes just talking to Waylon. He was just as nice as he could be."
Townsend stayed in close contact with Jennings until he passed away in 2002. Townsend now fronts the band, Waymore's Outlaws, which was originally made up of Jennings' band members, honoring his legacy through their music.
"There were times I wanted to get away from it, 'cause everybody would always say something about Waylon when I'd sing," Townsend admitted. "I tried to do other things and then, when the band got back together and asked me to sing with them as their frontman … I feel like I can carry on that traditional thing, and bridge the gap between the old and the new."
The title track of Southern Man is out now. See a track list for the record below. Find all of Townsend's music at TommyTownsendMusic.com.
Southern Man Track Listing:
1. Waylon Jennings Introduction
2. "Southern Man" (with Waylon Jennings)
(J. Fred Knobloch, Walter Carter)
3. "A Good Love Died Tonight" (with Waylon Jennings)
(Roger Murrah)
4. "If You Can't Stand The Heat"
(Roger Murrah, John Schweers)
5. "Trouble With A Capital T"
(Waylon Jennings, Troy Seals)
6. "Stompin' Ground"
(J. Fred Knobloch, Barry Alfonso)
7. "Could And Still Do"
(Dean Dillon, Bob Melton)
8. "Holes In My Boots" (with Waylon Jennings)
(Roger Murrah, Steve Anders)
9. "The Picker"
(Rob Mashburn)
10. "Lesson In Loneliness"
(Jerry Bridges, Donnie Epps)
11. "How High This Tree Will Grow"
(J. Fred Knobloch, Don Schlitz)