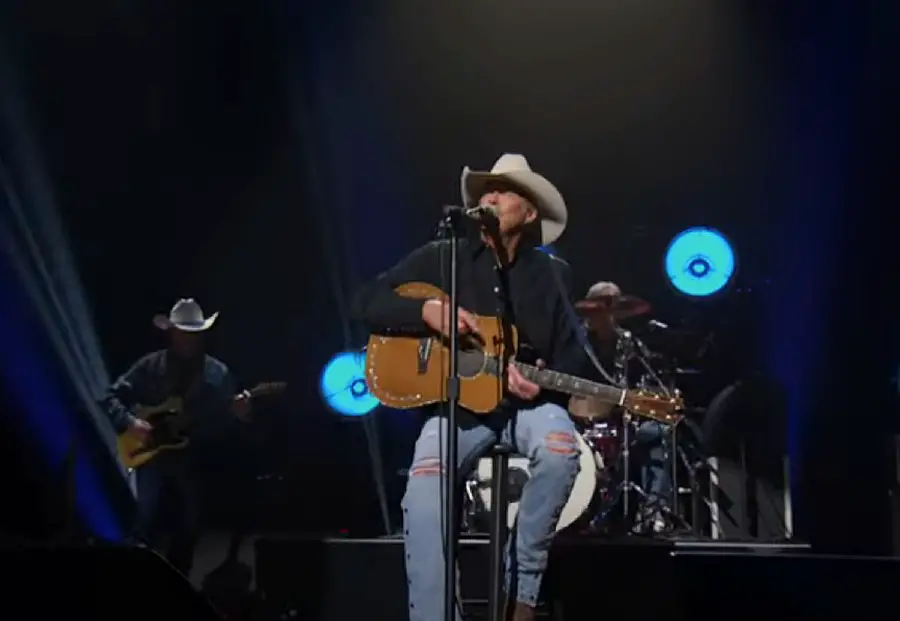 Alan Jackson is opening up about his health struggles. The Country Music Hall of Fame member reveals he has been diagnosed with Charcot-Marie-Tooth disease, a rare degenerative nerve condition. Jackson has lived quietly with the illness for the last ten years, which has been affecting his ability to walk. As his symptoms become more and more obvious, Jackson realized it was time to speak out about the illness.
"I have this neuropathy and neurological disease," Jackson revealed on the Today Show. "It's genetic that I inherited from my daddy … There's no cure for it, but it's been affecting me for years. And it's getting more and more obvious. And I know I'm stumbling around on stage. And now I'm having a little trouble balancing, even in front of the microphone, and so I just feel very uncomfortable."
According to Today, CMT reportedly "affects the peripheral nervous system and causes balance problems by compromising smaller, weaker muscles in the body's extremities." Fortunately, the illness does not have any impact on life expectancy.
"It's not going to kill me. It's not deadly," Jackson said. "But it's related (to) muscular dystrophy and Parkinson's disease."
The 62-year-old might have mobility challenges, but it won't keep him away from his fans. Jackson, whose Where Have You Gone album was just released to critical acclaim, says he has no plans of retiring.
"I never wanted to do the big retirement tour, like people do, then take a year off and then come back," Jackson said. "I think that's kinda cheesy. And I'm not saying I won't be able to tour. I'll try to do as much as I can."
Jackson honors several of his musical heroes with the video for the title track of Where Have You Gone, including Johnny Cash, Patsy Cline, Merle Haggard, George Jones, Hank Williams and Tammy Wynette. The video was shot at Nashville's Ryman Auditorium.
"The song kind of starts out like it's a lost love," Jackson says of the black and white video. "I love what I call 'real country music,' and I just see it fading away more than I ever have. I just wanted to say that."
Jackson will perform at Nashville's Bridgestone Arena on October 8. Tickets and all of his music can be found at AlanJackson.com.