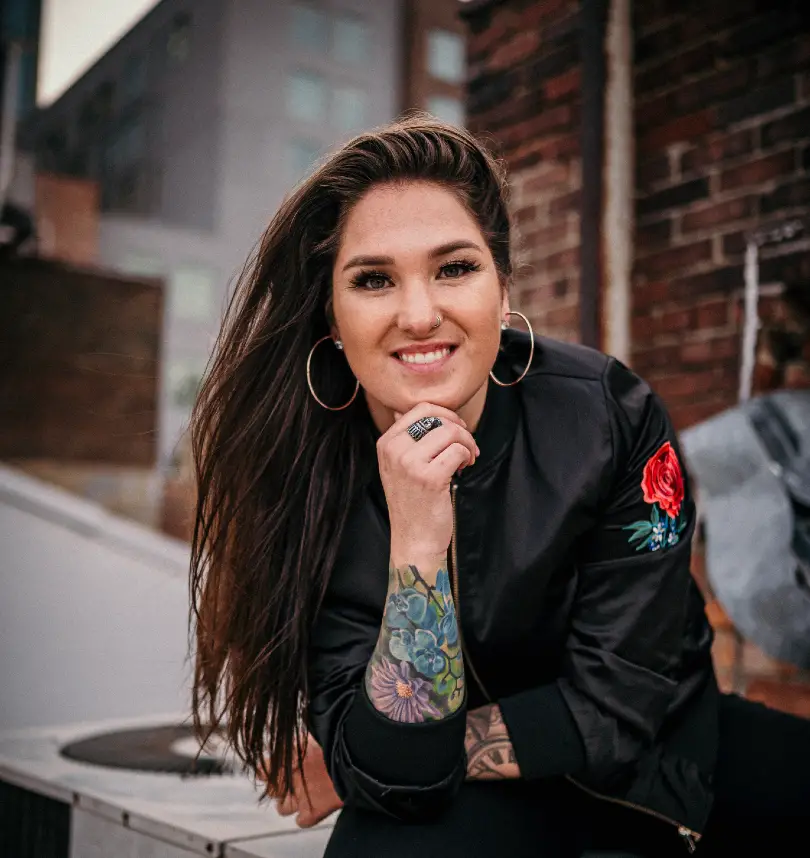 Allie Colleen has a laser-focus on making her music, her way. The rising star released the 11-track Stones album, track by track, last year before the finished product was out in its entirety in November. Unconventional, perhaps, but Allie wouldn't have it any other way.
"It was exciting," Allie tells Everything Nash. "It was kind of interesting. We saw a lot of good stuff from how we decided to do that."
For her first full-length project to be released to the world, Allie is, rightfully, quite pleased with how it turned out.
"I'm very proud of the album in that sense of, the only thing cohesive of this album is the writing," Allie shares. "Sonically, it's kind of all over the place. It's got its little love ballads and it's got its country-pop, and it's got its alternative rock. It has all things, but cohesively, just the writing in it is really cool. And I'm so proud of it. I have my first cut as an artist on this album that I didn't write at all, which I'm very proud of. All that to say, hopefully it's not egotistical, but my favorite track is 'Blame It On the Weather.' It's the only song on there that I wrote by myself. It's the only song that I've ever put out that I just wrote by myself."
Not surprisingly, Allie also has new music on the way. The Oklahoma native will release "Halos and Horns" in May, this time teaming up with Lee Brice and Jerrod Niemann for her next set of tunes.
"I wrote it with Eric Dodd and Stephen Hunley," Allie says of "Halos and Horns." "Stephen Hunley had this song for such a long time. It was just like 'Blame It On My Cowboy Ways.' I was so obsessed with the idea of a female coming in and cutting a song that didn't change any pronouns or anything like that, and just got to be a cowboy. I always say that Ashley McBryde is the greatest cowboy that we have in this town. I just think that there's something so cool about that."
Allie chose not to cut the cowboy song, but that song did ultimately inspire "Halos and Horns."
"I decided that Stephen needed to give that song a life," Allie shares. "He said, 'Well, I have this title, 'Halos and Horns.' I think it's really cool, and I think we could dive into it.' And so, Eric and Stephen and I just wrote this song. It lands on just being always stuck between 'Halos and Horns.' And it's so rad.
The new track, plus several others songs, are being produced Lee Brice and Jerrod Niemann.
"It's got that exploratory Jerrod Nieman sound that he does so well," Allie boasts. "It's got really sick dobro stuff on it. Oddly enough, I'm a very masculine woman. I always have been since I was a kid, My dad always jokes that he wouldn't take boys, 'cause he got better. He got three girls, which are way better than boys, because we're tougher and all that stuff. So all that to say, I'm a cowboy on this song is so cool."
Perhaps ironically, it was Brice who was able to pull out the softer side of Allie, something she struggled to do on her own.
"I knew that if anyone could find a feminine side of me and help me really push that just as much as the masculine, it would be Lee," Allie shares. "Which is so odd that I had to go to a male to be like, 'Will you pull out some femininity in me?' His melodies and everything are so delicate, even though they're strong. I always thought that that was so cool because that's me. I'm very delicate and I'm strong as hell and I'm tough as hell. I've always been insecure of intimidating people, especially men.
"This song just allows me to live out all of those things that I am," she adds. "I'm very proud of it and stoked about it."
Find all of Allie's music, as well as tour dates, by visiting AllieColleenMusic.com.
Photo Credit: Victoria Roth