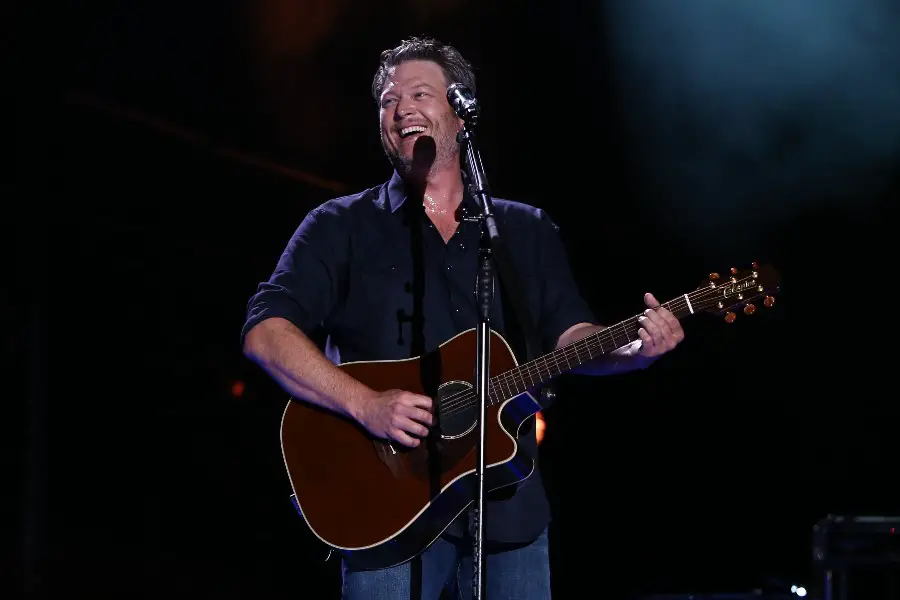 Blake Shelton's video for "Minimum Wage" is out! The video was directed by his fiancée Gwen Stefani's brother, Todd Stefani, and followed all COVID-19 safety measures.
"We had a lot of COVID protocol in place for this video," Shelton said of the video. "I really felt like the video needed to be a live performance, so we had a few fans at Ole Red in Tishomingo. Of course, everyone had to be pre-tested and re-tested and temperature checks and social distance. I'm still amazed by the camerawork and how it looks like Ole Red is packed with people knowing there were just a handful of people actually on site. Gwen's brother Todd captured exactly what I wanted to it to be."
"Minimum Wage" was written by Nicolle Galyon, Corey Crowder and Jesse Frasure. Although the song is in the Top 30 already, only four weeks after it was released, not everyone was a fan of the song, considering Shelton's celebrity status.
"Whatever this backlash is is just four or five people that probably don't know anything about country music," Shelton said to CMT. "They clearly hadn't heard the song or read the lyrics. If they had, they couldn't feel this way about the song. It's literally a love song about how if times are tight and you ain't got much money — as long as you have love and you're happy — at the end of the day, that's all any of us can really hope for. You got it if you got that. That's all that matters. And if that's offensive to you, then we'll just have to agree to disagree."
The 44-year-old decided to release "Minimum Wage" as soon as he heard it.
"I just thought, 'Oh wow, that is me.' I literally have lived that song," Shelton told Radio.com. "I roofed houses for years. Actually, to be honest, making probably less than minimum wage, now that I think about it. But I didn't care. I just wanted enough money that I could pay my rent, so I could go play guitar all weekend. That's what I did for the first half of my life, and those are my favorite memories, actually.
"And the other reason that I wanted to record it is because my concerts tend to put people to sleep,'" he added with a laugh. "I thought, 'Wow, I'll actually have an uptempo song for my show. That'll be nice for a change.' I love the lyric. It's such a positive message, especially in times like this. We all need love more than ever. That's pretty much what the song's about."