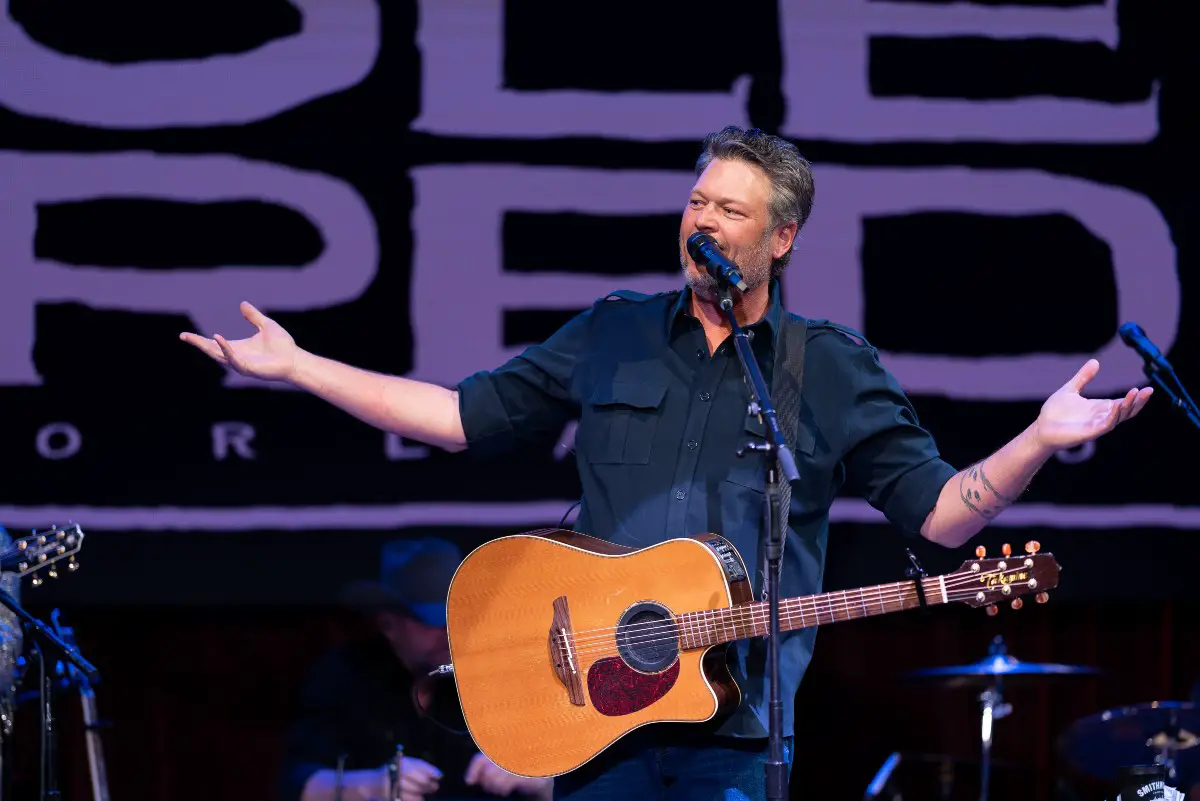 Blake Shelton is getting a new accolade. The 46-year-old will receive a star on the Hollywood Walk of Fame next year. Shelton will be honored as part of the Recording category, which will also include Marc Anthony, Irving Azoff, Sheila E, Jonas Brothers, Lenny Kravitz, Charlie Wilson, and Jenni Rivera (who will be honored posthumously).
"The Walk of Fame Selection Panel is pleased to announce 24 new honorees to the Hollywood Walk of Fame. The Selection Panel, made up of fellow Walk of Famers, hand-picks a group of honorees each year that represent various genres of the entertainment world," Chair and Walk of Fame member Ellen K says. "The panel thoughtfully selected these talented individuals, and we can't wait to celebrate them as they become part of Hollywood's history with the unveiling of their star on the world's most famous walkway!"
Other upcoming honorees include  Ludacris, Bill Pullman, Uma Thurman, Vince Vaughn, John Waters, Paul Walker (Posthumous), Jon Favreau, Mindy Kaling, Martin Lawrence, Ralph Macchio, Garrett Morris, Ellen Pompeo. and Pentatonix, among others.
A date for Shelton's ceremony has yet to be announced. Recipients have up to two years after they are selected to schedule their ceremony.
Shelton has had plenty of success as a country music singer, but he has also gained a massive following thanks to his time as a coach on The Voice.
"I didn't realize that most people in this country had never, ever heard of me, at all, or heard my music," Shelton previously said on Sunday Today. "And it wasn't until I got on The Voice as a coach that I realized, 'Man, I am nobody.' I remember the first time or two they introduced us on the stage. … The Voice changed everything for me, and I mean everything."
Of course, it's not only Shelton's professional life that's going well, but his personal one is at an all-time high also. The singer tied the knot with Gwen Stefani last July, and has heartily embraced his role as a stepfather to her three sons.
"Every day, I fall in love with the boys as much as I do with Gwen," Shelton said during a conversation at Country Radio Seminar. "It's like Disneyland to them when they come out to Oklahoma, because they live in LA. Living in LA has its perks, I guess, but there's not a lot of room to roam out there. You kind of have your yard or a public park, which these days are not necessarily somewhere you want to go."
Other country music artists who have a star on the Hollywood Walk of Fame include Carrie Underwood, Rascal Flatts, Reba McEntire, Vince Gill, Tim McGraw and Alan Jackson, among others. More information on the Hollywood Walk of Fame can be found here.