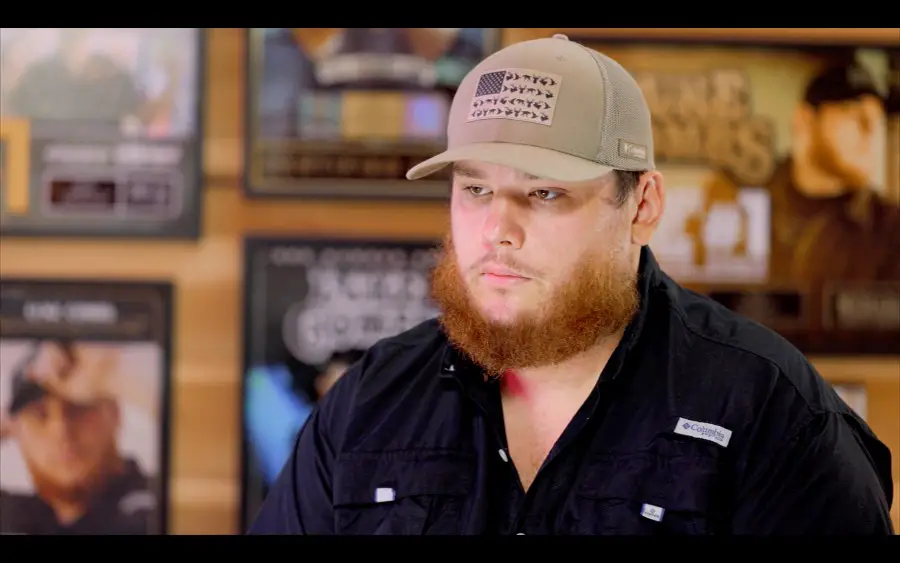 Luke Combs just wants to make people happy. The country music superstar just celebrated his 13th consecutive No. 1 hit, with "Doin' This," from his third studio album, Growin' Up,  out on June 24. From the moment his debut "Hurricane" single came out in 2016, Combs has ridden the wave of success, more than almost any other artist within the genre.
Combs has also avoided most, but not all, of the pitfalls of fame. The new father received some backlash last year, after a 2015 video was posted of him singing in front of a Confederate flag. The video surfaced while country music was still reeling from, and somewhat divided by, Morgan Wallen's racial slur that he uttered, and was quickly shared with the world. Combs apologized for the video, saying at the time that "hate is not a part of my core values, and it's not something that I consider a part of myself at all."
Of all of the chapters in his professional career, the 32-year-old says that was one of the toughest ones.
"There were fans that were upset that I apologized and fans that were glad I did," Combs tells the New York Times. "That was a tough time. Before it was all roses, then this thing happens and it's like, 'Hey man, you're a racist.' I've never been that political of a dude but someone telling me I'm racist was a big problem for me, because I'm not racist."
Combs acknowledges that he could have let the entire situation die down, likely with minimal repercussions, but he insists that isn't who he is.
"I'm a people-pleaser," Combs says. "I'm a guy that derives a lot of my happiness from making sure other people are happy. That's the nature of my job."
When Combs spoke out about the incident, he made it abundantly clear that the person in that video was not who he was six years later.
"It's not okay," Combs said at the time. "As a younger man, that was an image that I associated to mean something else. And as I've grown in my time as an artist, and as the world has changed drastically in the last five to seven years, I am now aware how painful that image can be to someone else."
Combs knew early on that he wanted a career in music, inspired by fellow North Carolina native, Eric Church. Still, even he admits he never could have predicted all of the success he is currently experiencing.
"I moved to Nashville and was like, 'If I can make a living doing music somehow, that'd be enough.'" Combs says: "Being a songwriter, working at a publishing company, booking bands at a bar, whatever … I wasn't smart enough to plan all this in advance. I've just been smart enough to not plummet the plane into the earth. Well, not yet."
Combs just released his current single, "The Kind of Love We Make." Find music and tour dates at LukeCombs.com.