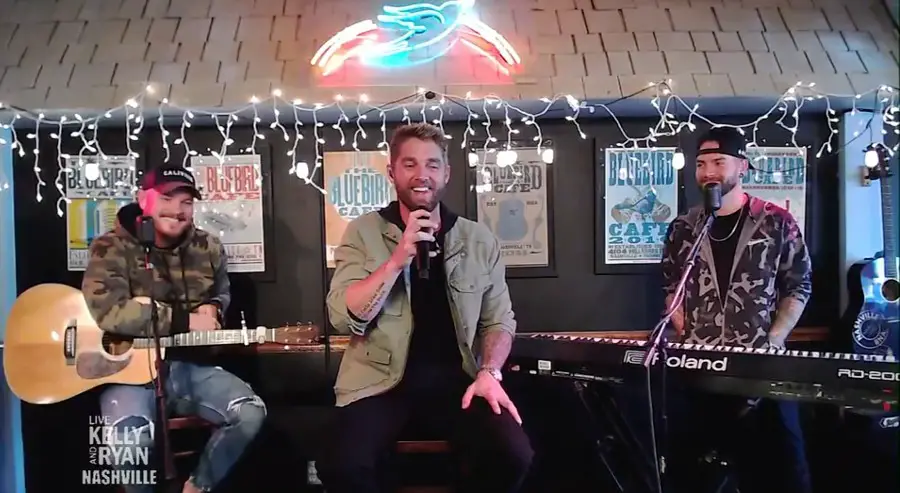 Brett Young was well into his 30s when he started finding success in country music. The 40-year-old, who will release his holiday album, Brett Young & Friends Sing The Christmas Classics, on October 22, is grateful that he was a bit older when he started having hits, aware that if it had happened when he first started out, his life might have turned out much, much differently.
"I'm often reminded that I'm lucky that this happened a little bit later in life for me," Young shared with Everything Nash and other outlets, during a virtual media event. "I played bars and restaurants for somewhere around 10 years, and I don't know that if this happened early on, if I would have been able to stay grounded in my faith. And I think God's timing was perfect because I was a little bit older. And right after I got my deal, I got back with my wife [Taylor]. We've known each other for 13 years now, so she's a grounding force in my life as well.
"I always say this: 'If you want to make God laugh, tell Him your plans," he continues. "I think His plans and His timing were perfect for me. There's not a day that goes by where I don't feel like I'm here without Him, and I think that was all part of his timing."
Young and Taylor welcomed their second child, daughter Rowan Marie, in July. While Young was happy to be home for over a year, spending time with his wife and daughter Presley, the California native is ready to move full-speed ahead with his career again. But while he strives to work harder than ever, Young also strives to make his family his top priority, at home and on the road.
"The overview is the same, regardless of industry," Young reflects. "As a dad and a husband, It's to cultivate the career, and put food on the table, and it will always be that for me. That will always be the priority. I'll take the worst gig that pays better if it means my family's going to eat. But I think the career side of it, or I should say, the artistic side of it for me is the same thing I've said from the beginning, which is honesty and authenticity. I don't want to do this if I feel like I'm compromising or jeopardizing integrity at all, ever.
"I feel like the only reason I can expect people to pay attention to album after album, single after single, is if they know that they're getting a peek behind the curtain and getting to know me better with every project and song that we put out," he adds. "And so on the artistic side. I never want a lot of people. But on the business side, it will always come first that my family is taken care of."
Young just dropped a brand-new single, "You Didn't." Find all of his music and tour dates, and pre-order Brett Young & Friends Sing The Christmas Classics, at BrettYoungMusic.com.
Photo courtesy of Live With Kelly & Ryan