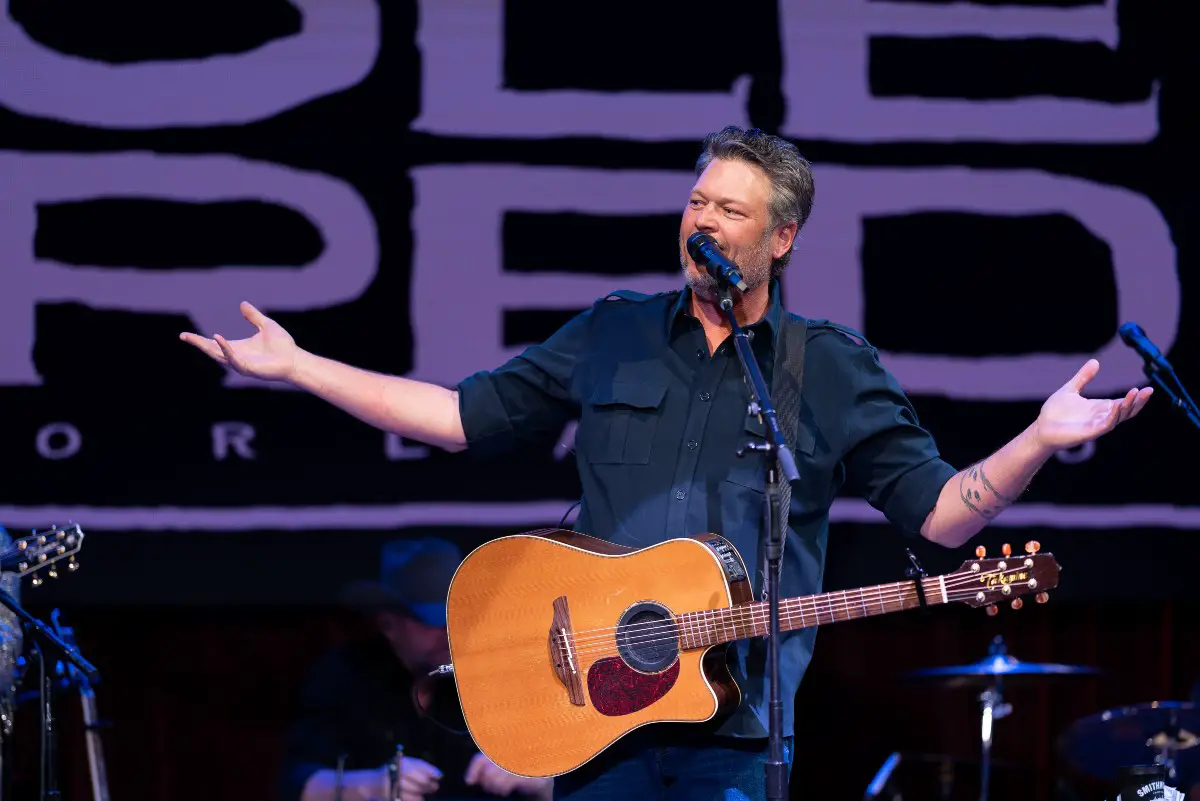 Blake Shelton's upcoming Body Language Deluxe album features a few special guests. In addition to Gwen Stefani , who joins him on their No. 1 hit, "Happy Anywhere," and the Swon Brothers, who join him on the title track, the new deluxe version also features both HARDY and Brooks & Dunn.
HARDY, who co-wrote three of the tracks on Body Language Deluxe, joins him on "Fire Up the Night," a song HARDY wrote with Florida Georgia Line's Brian Kelley, Jordan Schmidt, and Bart Butler. Brooks & Dunn join Shelton on "Throw It On Back," written by Rhett Akins, Bobby Pinson and Ben Hayslip.
It seems Shelton's wedding song, which he sang as his vows to Stefani during their July nuptials, is also on the project. The song, "We Can Reach the Stars," written with Craig Wiseman, is the final track on the 14-track record.
"I think it's something I want to share because I'm really proud of it," Shelton preivously told SiriusXM's Storme Warren of the song "To me, a marriage, a ceremony, you're not keeping it private when you get married to somebody. You're announcing to the world, 'Hey, this is my wife, just so everybody knows.' That's why we wear these rings. This is where we're together now. And I feel that way about the song. It's for me something that I want people to hear and know, because I'm proud to be married to Gwen and so proud of that song."
Shelton already released "Come Back As A Country Boy," from Body Language Deluxe. Written by HARDY, Schmidt and Josh Thompson, the song was the perfect way for the Oklahoma native to introduce the new record.
"I think this song is an anthem for everyday hardworking country people out there," Shelton said of "Come Back As A Country Boy." "We have so much pride in who we are and what we do that, if we ever died and got the chance to live life over again, we probably wouldn't do it if we couldn't be country."
Body Language Deluxe will be released on December 3. See a track list below. The record is currently available for pre-order at BlakeShelton.com.
Body Language Deluxe Track List:
1. Come Back As A Country Boy (Michael Hardy, Josh Thompson, Jordan Schmidt)
2. Fire Up The Night (feat. HARDY) (Michael Hardy, Jordan Schmidt, Brian Kelley, Bart Butler)
3. Minimum Wage (Nicolle Galyon, Jesse Frasure, Corey Crowder)
4. Body Language (feat. The Swon Brothers) (Colton Swon, Zach Swon, Matt McGinn, Ryan Beaver)
5. Happy Anywhere (feat. Gwen Stefani) (Ross Copperman, Josh Osborne, Matt Jenkins)
6. Now I Don't (Jessi Alexander, Alysa Vanderheym, Michael Hardy)
7. Monday Mornin' Missin' You (Jessi Alexander, Deric Ruttan, Josh Thompson)
8. Corn (Craig Wiseman, Matt Dragstrem, Chris Tompkins, Rodney Clawon)
9. Makin' It Up As You Go (Brad Tursi, Shane McAnally, Josh Osborne)
10. Whatcha Doin' Tomorrow (Dallas Davidson, Kyle Fishman, Casey Beathard)
11. The Girl Can't Help It (Ben Hayslip, Josh Osborne, Mark Holman)
12. The Flow (Shane McAnally, Ross Copperman, Josh Osborne)
13. Neon Time (Jaron Boyer, Michael Tyler, Ben West)
14. Bible Verses (Joe Fox, Andrew Peebles, Brett Sheroky)
15. Throw It On Back (feat. Brooks & Dunn) (Bobby Pinson, Ben Hayslip, Rhett Akins)
16. We Can Reach The Stars (Blake Shelton, Craig Wiseman)