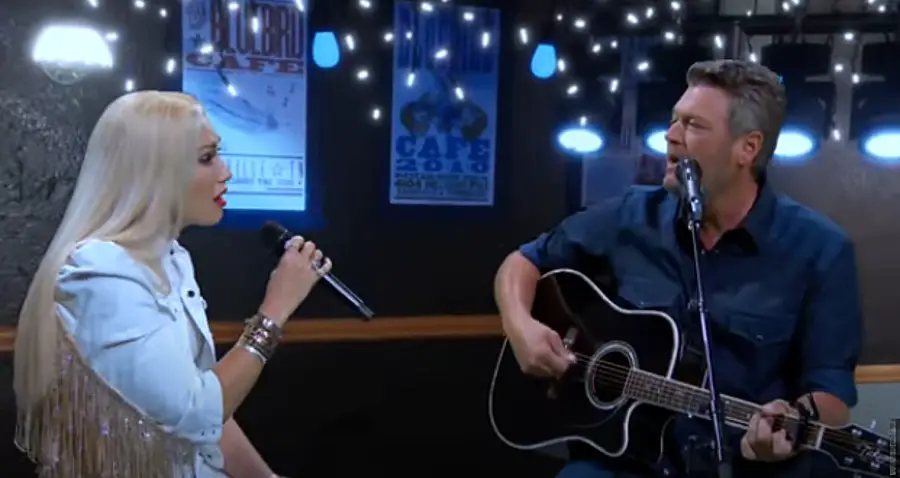 Gwen Stefani isn't afraid to wear her heart on her sleeve, especially when it comes to her husband, Blake Shelton. At a recent industry event celebrating the chart-topping success of both "Happy Anywhere" and "Nobody But You," Stefani recalled the moment that Shelton asked her to sing on "Happy Anywhere," making the path clear for her to earn her own spot in country music in the process.
"Blake Shelton, thank you for letting me ride your coat tails all this time," Stefani said (via People). "I truly am a fish out of water. I'm from Orange County, but I'm wearing cowboy boots for this. I am such a fan of songwriting and writers. When Blake asked me to be on 'Happy Anywhere,' I cried because I was so excited about it. The song is so 'our song' and we're so in love and it really is the perfect way to describe us. When I heard 'Nobody But You' I was so blown away by the song, I was jealous that I wasn't on it."
The couple, who tied the knot in July, first started dating in 2015, while going through their own respective divorces at the time. Neither of them could have imagined that six years later they would be husband and wife, with two back-to-back No. 1 songs to their credit.
"It was literally the greatest moment… one of the greatest moments of my life, obviously," Stefani said on the Tell Me About It with Jade Iovine podcast (via People), speaking about her wedding day. "It was beyond what I thought it was gonna be."
Stefani and Shelton began dating while they were in the middle of their own divorces, never imagining that they would fall in love and ultimately marry each other.
"I just feel so lucky," Stefani gushed. "One of those things you think about a lot in your life is you don't know the future and you don't know what's gonna happen, but I feel like my spiritual journey has really guided me towards this place and this place of peace, Now I need to figure out how to do the rest of my life."
Shelton just announced a new Ole Red location would open in 2022, this time at the Nashville International Airport. The Grand Ole Opry member is currently on his Friends and Heroes Tour. Find a list of all of his upcoming shows at BlakeShelton.com.