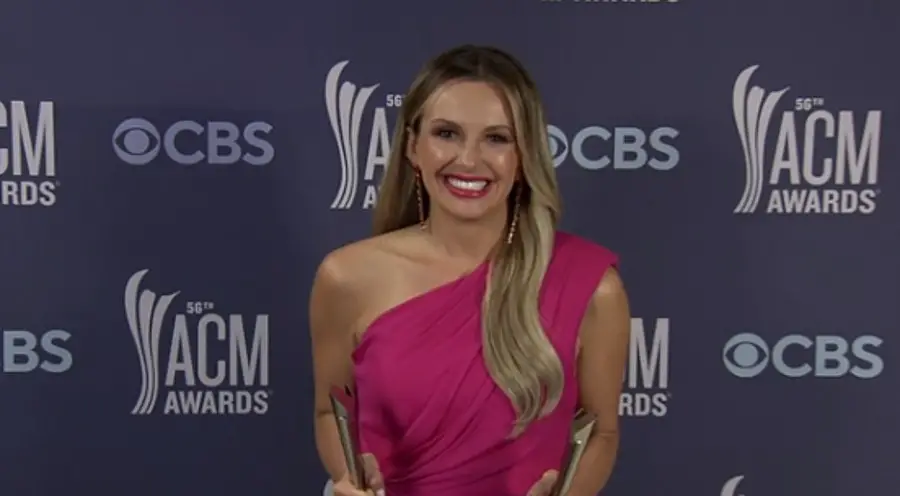 Carly Pearce walked away with two ACM Awards earlier this week, for Music Event of the Year and Single of the Year, both for her "I Hope You're Happy Now" collaboration with Lee Brice. For Pearce, the industry honor is more than just recognition for her talent, but also proof that she has something important to say.
"It's a validation that my stories matter," Pearce revealed backstage at the ACM Awards. "It's the validation that the kind of music that I write, and the kind of music that I get to sing, and the kind of music that I get to perform, matters to country music. And that's all I ever wanted."
"I Hope You're Happy Now" was written as an apology to someone she broke up with, so she could date her now-ex-husband, Michael Ray. But while the relationship with Ray might not have worked out the way that she hoped, Pearce is still grateful that so many people resonated with her story.
"This was my story as an apology to somebody in my past," Pearce reflected. "I think that what it's showed me, time and time again in country music, is that writing my own stories and telling my own truth, so many other people are going through the exact same thing. It's just validation on a crazy level, and I just feel so proud."
Pearce has no idea where she is going to put her new trophies, which is a good problem to have, since her collection of awards keeps growing.
"I now can say I have a few, which is crazy," Pearce said. "I kind of have a little situation going on, but it needs to be better. I promise I'll post it, because it's going to be big, because it deserves it."
Pearce just released her telling 29  album, which detailed much of her painful last year. But while some of the songs may be autobiographical, like "Next Girl" and the title track, the Kentucky native insists she wasn't trying to get back at Ray through her music.
"I certainly was not trying to be vengeful. But I would be lying to you if I didn't go, 'Damn! Alright.' You know, hold my head a little higher," Pearce told The Washington Post. "[It] came out of a situation that for me was completely soul-crushing. And we have to make decisions in life in hard times: Are we going to let this define us or refine us? And I think this is my refinement moment."