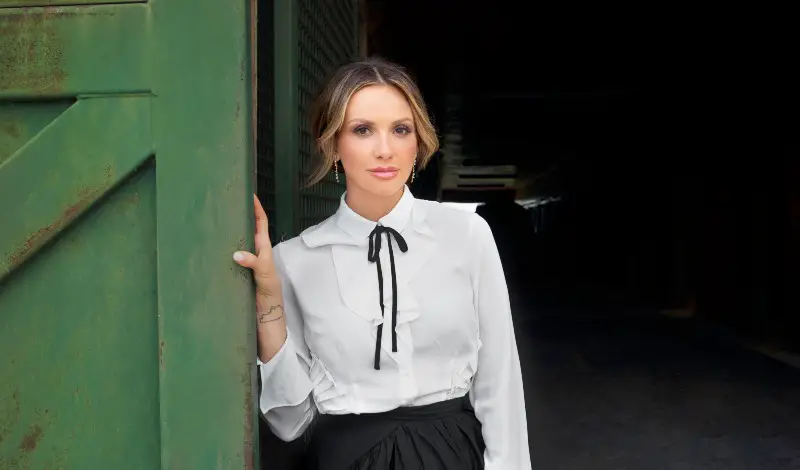 Carly Pearce is about to receive yet another honor. The Grand Ole Opry member will be inducted into the Kentucky Music Hall of Fame on October 28. Pearce joins an elite list of musicians for the 2022 class, including Grand Ole Opry vocalist Norah Lee Allen, Steel Guitar Hall of Famer Tommy White, "I'm From the Country" hit songwriter Marty Brown. Bluegrass songwriting legend Pete Goble and master guitarist and legendary producer Paul Yandell will also both be inducted posthumously.
"Kentucky is where I learned to love country music and the incredibly talented musicians who wove their stories and texture throughout the genre," Pearce says of the honor. "From straight-up sass of The Judds and Patty Loveless or truly understanding Loretta Lynn's heartache, to the bluegrass tinge of Ricky Skaggs and Bill Monroe, their influences have driven my music. I am so excited and grateful to be inducted into the Kentucky Music Hall of Fame this fall."
It's fitting that Pearce mentioned Lynn, also a member of the Kentucky Music Hall of Fame, since Lynn inspired one of the songs, "Dear Miss Loretta," on Pearce's latest 29: Written in Stone album.
"Loretta and I did have a lot of similarities growing up in Kentucky," Pearce told  PopCulture.com. "And now I feel like as an adult, yes, I loved her as a kid because my grandma was like, 'If you're going to sing country music, you're going to love Loretta.' And it was like, 'Got it.' But now as an adult, I understand what she was singing about so much more. Are our stories identical? No, but we are pushing the envelope of what is, quote unquote, acceptable to sing about."
2022 is proving to be an unforgettable year for Pearce. In addition to being inducted into the Kentucky Music Hall of Fame, she is also heading into the upcoming 2022 ACM Awards with four nominations, including for Female Artist of the Year, Album of the Year (for 29: Written in Stone) and Musical Event of the Year and Video of the Year, both for her "Never Wanted to Be That Girl" collaboration with Ashley McBryde.
"In cheating, no one ever thinks about the two people harmed," Pearce says of the inspiration behind "Never Wanted to Be That Girl." "It's always about the person who did you wrong, or the person who led them astray. Ashley brings such a strong sense of all the people in a story, too, so this song was a natural thing to us – even though it's rarely done, and never from a place of how bad being misled makes you feel. It's a grown-up song, but it sure feels honest."
Former inductees into the Kentucky Music Hall of Fame include The Backstreet Boys, Florence Henderson, Rosemary Clooney, Keith Whitley and Boots Randolph.
Pearce will kick off the second leg of her The 29 Tour on Thursday, March 10. She will also join Kenny Chesney later this year, serving as the opening act on his Here and Now 2022 Tour. Find tour dates here.