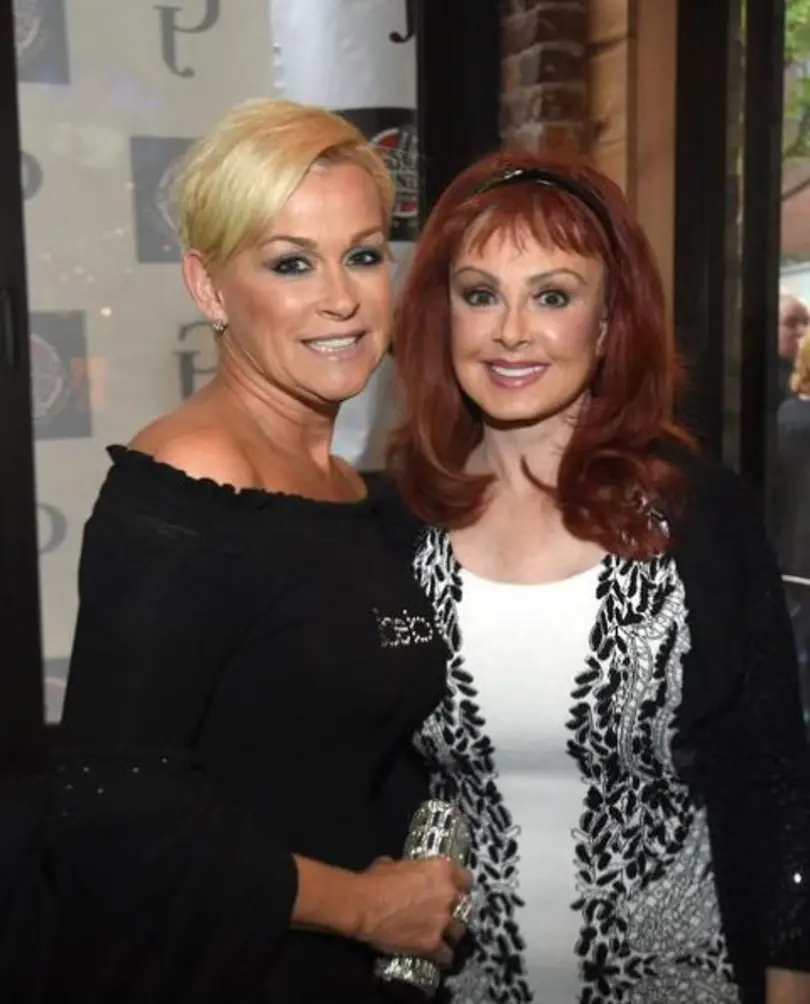 Country music artists are continuing to speak out about the tragic passing of Naomi Judd on Saturday, April 30, one day before The Judds' induction into the Country Music Hall of Fame.
Carly Pearce, who performed "Grandpa (Tell Me 'Bout the Good Ole Days)" during the induction ceremony says she is still reeling from the unexpected loss.
"I was called a few months ago by the Hall of Fame and was asked to be one of the surprise musical guests honoring The Judds at their induction into the Hall of Fame, so, I was already freaking out," Pearce says. "I love the Judds. 'Why Not Me' was one of my absolute favorite songs of all times. And in light of what happened I certainly didn't think that the ceremony would go on, but I think that's such a testament to the strength of the Judds daughters, Ashley and Wynonna, just that they wanted to keep it going.
"I got a call that Wynonna had a special request for someone to sing 'Grandpa,'" she adds. "And she didn't know that I was gonna be there. I had to change my song at the last second, and it truly was, I think, the most nervous I've ever been in my career."
Lorrie Morgan recalled many memorable moments in her lengthy friendship with Judd, expressing sorrow for those who now have to continue on without her.
"Such a tragic loss," Morgan says. "Truly one of country music's most iconic entertainers has left us all in tears. As I sit here wondering why to myself, I know there are no answers. You look back and you think could I have helped in some way? I know these feelings as they have crept up in my life a time or two. Naomi was always so nice to me and my family. She would go out of her way to have someone summon me to come to her dressing room and we'd be sitting and talking until she or I had to go onstage. She always gave me wonderful advice, so it breaks my heart that maybe I should've reached out to her one more time.
"Our hearts are broken, and this music industry, this business, can do strange and crazy things to people," she continues. "My thoughts are with her two beautiful daughters, Larry and her grandchildren and all of the fans who were so excited to see her back on the road and back on the stage again. She's on the best stage she could ever be on now. Rest in peace, Naomi."
Jeannie Seely spoke out about the loss of her friend, and the hole that she leaves in country music and beyond.
"There is no way I can get my mind to adjust to this reality," Seely says. "Naomi brought such a breath of fresh air to our industry with her uptown looks and down-home humor. Her talent was only equaled by her dedication to following her dream and her unbelievable work ethic. She was respected, admired and will be remembered for those attributes. Even as we prepared a place for her in the Hall of Fame, we know that God has prepared a place for her as well."
Tanya Tucker admits she is still having a hard time believing that Judd really did pass away, especially after they were friends for so many years.
'Say it isn't so," Tucker says. "Cannot believe my girlfriend and longtime buddy Naomi is gone. We've known each other for years and she always treated me with class, grace and pure kindness. I'm going to miss her so much."
Bill Anderson recalled meeting Judd very early in her career, when her aspirations of being a singer were just beginning to come to fruition.
"I am shocked and saddened along with the rest of our country music community over the passing of Naomi Judd," Anderson says. "I'll never forget meeting her for the first time when she was a contestant on a TV game show I was hosting. I asked her to identify herself for the audience and she said, 'My name is Naomi Judd and I am a nurse from Franklin, Tennessee. My daughter and I sing together, and someday we hope to make it in country music.' I was looking so forward to recalling that moment with her on Sunday when she and Wynonna were to be inducted into the Hall of Fame. She was one of a kind and will certainly be missed."
Photo Credit: Rick Diamond/ Getty Images