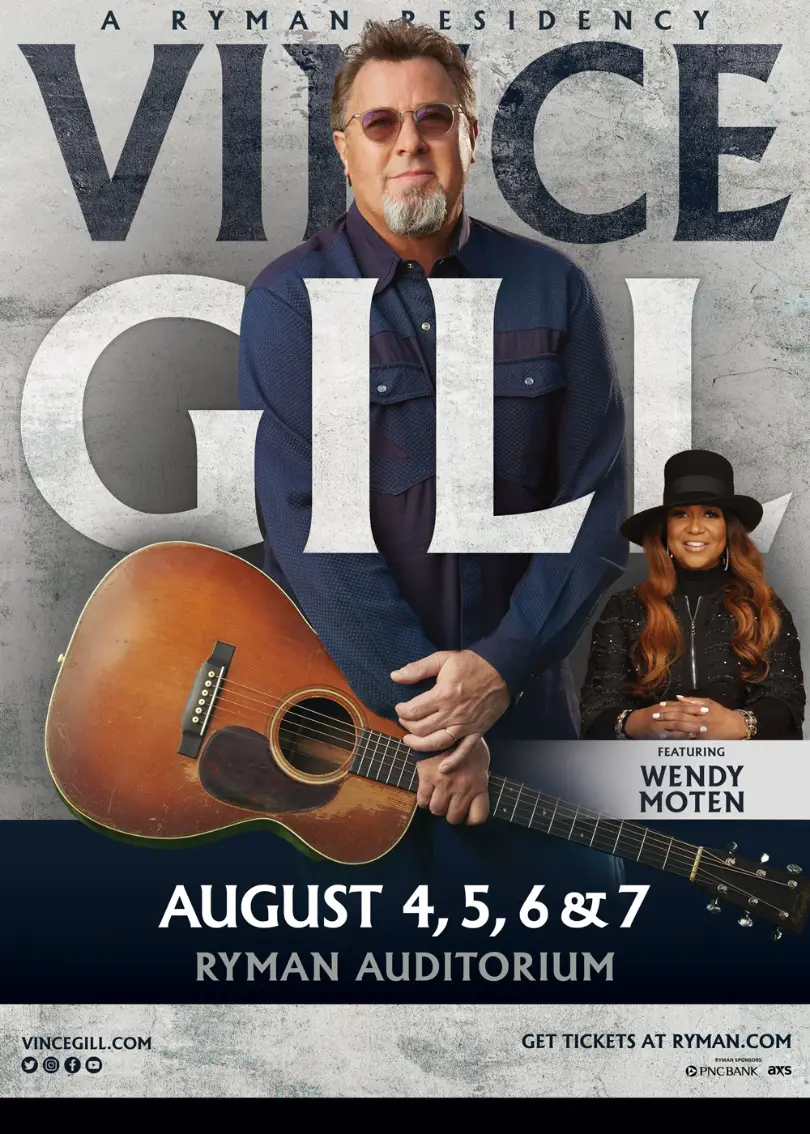 Vince Gill is heading to the Ryman Auditorium. The Country Music Hall of Fame member, who has performed for several years as part of his annual Christmas at the Ryman residency with his wife, Amy Grant, announces he will perform four nights in August, as part of the Ryman Auditorium's 130th-anniversary celebration.
"Of all the great concert halls in America and throughout the world, the Ryman is by far my favorite," says Gill. "I knew it was a unique venue the first time I set foot on the stage over 30 years ago. It was just me and an acoustic guitar and to this day that moment was like nothing I've ever experienced."
"To have Vince be a part of our 130th-anniversary year with a four-night Ryman Residency is so incredibly fitting and such an honor," adds Chrissy Hall, Director of Concerts for Ryman Auditorium. "He has a deep love for the building and the magic that happens here. We are beyond excited to welcome him back to the Ryman stage for such a historic milestone."
Gill will be joined for his residency by Wendy Moten, who has sang in his band for years, and is also serving as his opening act on his tour dates this summer. The Oklahoma native says he is more than ready to return to touring, after so much time at home because of the pandemic.
"That pesky little virus thing — I mean, nobody could dream this stuff up. It dawned on me in the middle of the pandemic that I hadn't had a break in 47 years," Gill told Variety. "I had always traveled, always toured, always played, always worked, and never, ever stopped. It was a real interesting thing to have happen, and I didn't spend all my time practicing. I found a blessing in the break, and it was okay. But I miss singing all those songs that I've come up with over the last 40, 45 years, so I'm pretty fired up to go out there and so some of them again."
Other artists who have already helped celebrate the Ryman's milestone year include Dwight Yoakam and Tedeschi Trucks Band. Billy Strings' three-night residency will begin on May 6, with more artists expected to be announced in the near future.
Gill's residency will take place nightly from August 4th through August 7th. Tickets will be available beginning on May 6. Find more details at Ryman.com, and see a complete list of all of Gill's upcoming shows at VinceGill.com.