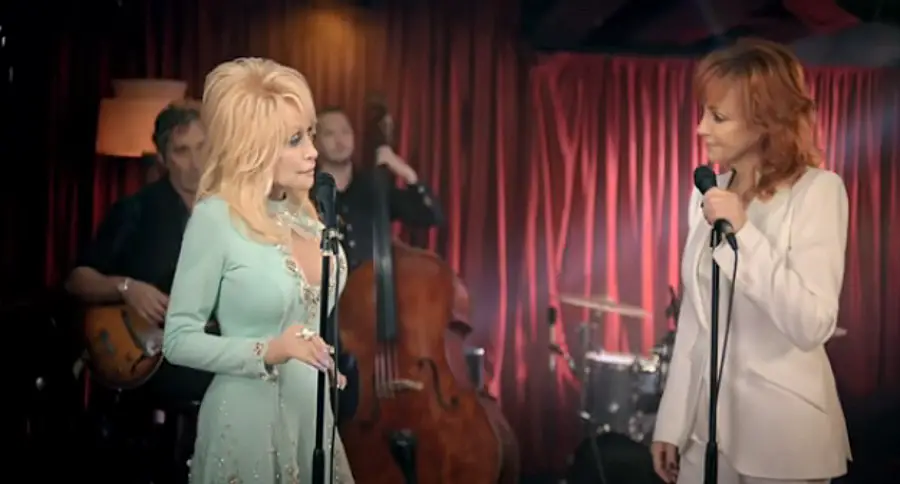 Reba McEntire is the musical idol that so many look up to, but she also has her own hero as well, namely Dolly Parton. The "Fancy" singer recently asked Parton to join her on a remake of Does He Love You,"  but she wasn't able to call her directly to issue the invitation.
"You don't call Dolly, you fax her. And you fax your people and your people talk to her people," McEntire reveals on Apple Music Country's Southern Accents Radio with Dave Cobb. "That's the only way I know to get ahold of her."
Faxing might be a largely antiquated system now, but even at its height in popularity, that was the only way to get in touch with Parton.
"I even asked Kenny Rogers one time, I said, 'Do you have Dolly's cell number?' He said, 'No,'" McEntire says. "So you fax her. She did tell me one time that she gets up early in the morning and she writes. She writes every day. But Dolly is different than anybody I've ever met, whether they're in the business or not. She's so creative, so witty, so spunky, so feisty. And the biggest-hearted person I've ever met in my life, and I've met some bighearted people.
"But she's a giver," she continues. "I'm in awe of Dolly. I'm not intimidated. It's just, I'm in awe of her … She helps so many people and takes care of so many people. It's just like an angel on earth. I really respect her a lot."
McEntire dreamed about singing with Parton for a long time, but it took until "Does He Love You" was recorded to make that dream a reality.
"Linda Davis did a great job on 'Does He Love You,' but Dolly, there's just something about that woman that just slays me," McEntire tells Variety, speaking of the new version of the iconic song. "She added empathy and sympathy and camaraderie in the way she sang this song. It's about two women loving or wanting the same man, and you feel for both women on it, I'm so thankful she said yes when we asked her to be a part of this, because I've wanted to sing with Dolly forever."
McEntire, who recently released the inspirational My Chains Are Gone CD and DVD set, will soon have a new project out. The Oklahoma native recently revealed that her new lifestyle book will be released in 2023.