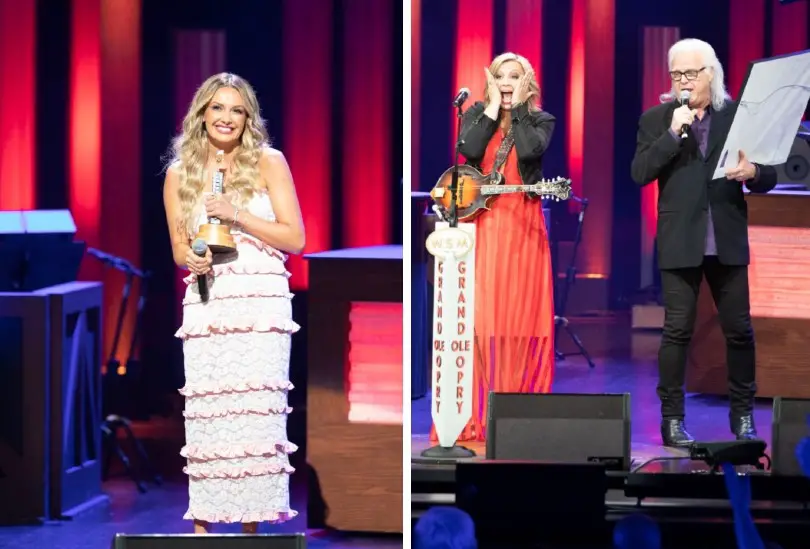 Both Carly Pearce and Sonya Isaacs are now official members of the Grand Ole Opry, after Pearce was inducted in August, followed by Isaacs, who was inducted as part of her family group, The Isaacs, in September. For both singers, being a part of the sacred institution is a culmination of dreams they have carried with them for most of their lives.
"I'm sure that Sonya would say the same thing, but moments like becoming a member of the Grand Ole Opry — that's something that I wanted and dreamed of and hoped for my whole entire life," Pearce tells The Bluegrass Situation. "And now to say that I am a part of that family is so surreal for me. All of these things, the childhood dreams, are coming true. You hope that when you're writing music and singing and doing all of these things that it's impactful and that people are going to care. And the fact that I feel like people care is so special."
Both Pearce and Isaacs grew up listening to, and performing, bluegrass music, which is where Isaacs says her love of country music began.
"It goes back to growing up," Isaacs reflects. "Dad instilled a great love for bluegrass music but hand-in-hand with that is that old classic country sound. I think nowadays, the classic country would fall more into a bluegrass category than even current country, because it's changed and evolved so much since those days. Dad always instilled in us in love for the Grand Ole Opry as well, so it was full-circle again to be inducted and to be an Opry sister with Carly. We've known her for years and we've written together and we go way back. It is a really neat time to get to share these moments."
Isaacs joins Pearce on "Easy Going," from Pearce's recent 29: Written in Stone album. For Pearce, asking Isaacs to join her on the fun track was an easy decision.
"When I was writing this song, I could hear the harmony," Pearce says. "I grew up loving music and harmony and all of those things. As soon as we finished writing it and knew that we wanted it to be on the project I just heard The Isaacs. I grew up loving them and loving their harmonies. Nobody sings harmony better than the Isaacs family, so I asked Sonya."
Find "Easy Going," and all of Pearce's music and tour dates at CarlyPearce.com, and head to TheIsaacs.com for all of their information.