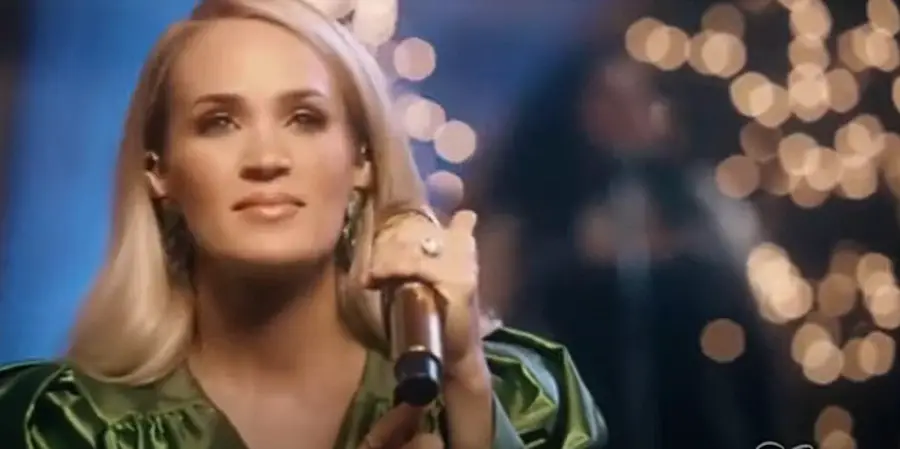 Carrie Underwood is joined by John Legend on the original song, "Hallelujah," from her recent My Gift album. The American Idol alum recently shared a clip on social media, of a behind-the-scenes look at how the stunning video for "Hallelujah" was filmed.
"Today we are in Los Angeles, and they have made Christmas in LA, complete with snow," Carrie begins. "It feels cold. It's not but it looks like it should be."
So proud of the #Hallelujah music video with @johnlegend, and the whole team that made it happen! Check out a behind the scenes look from the day we shot it! #RandeeStNicholas #Hallelujah 🙌😇 #MyGift 🎁✨

Watch the official music video: https://t.co/8rP6jSaGLd pic.twitter.com/nvb4KO6fGM

— Carrie Underwood (@carrieunderwood) December 16, 2020
It was John who sent Carrie the song for consideration for My Gift, with Carrie then asking John if he would sing on it with her. So it only made sense to include the R&B superstar in the video for "Hallelujah" as well.
"It's been really nice being around John, and just kind of getting to sing the song together, even though we're just doing it for a music video," Carrie reflects.
The "Hallelujah" video appears to be filmed in a church, although the 37-year-old reveals it was an elaborate set to bring the song to life.
"We're in this church-type set-up, but it's very intimate, just beautifully lit," Carrie gushes. "The place is beautiful, and there's doves, and it's gorgeous. And of course everybody is wearing masks to make sure everybody feels safe, and is taking the necessary precautions. So it's weird, but we're here and we're pushing through, and doing it anyway, and that's to me what 2020 has been, making stuff happen and figuring out things you want to do, in a safe and different way."
The Oklahoma native was almost finished with My Gift when John sent her the inspirational song, which became one of her favorites on the record.
"I was deep into making the album, and this one came in. He sent it to us kind of at the end," Carrie recalled of the song, during a recent episode of Today's Country Radio With Kelleigh Bannen on Apple Music Country. "It was like, 'Well, I love the song. I feel like this is a puzzle piece I didn't know was missing, but now that I've heard it, I have to have it,. And so we just put the ask back, 'Thank you for sending. Do you want to sing a part with me, too?'"
My Gift is available at CarrieUnderwoodOfficial.com.