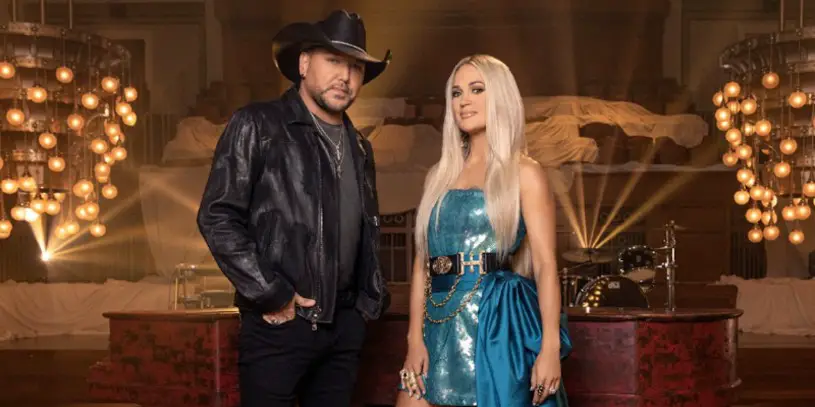 Jason Aldean and Carrie Underwood recently scored a No. 1 hit, with their "If I Didn't Love You" duet. The two superstars had been hoping to collaborate together for quite some time, but it wasn't until this song that they realized they had found their dream duet, which was even endorsed by Underwood's husband, Mike Fisher.
"I was sitting on my couch; we kind of wind down our day watching some TV, and I was listening on my phone," Underwood recalls (via Country Now). "Even my husband, he was sitting nearby. He was like, 'What's that?' I said, 'It's a song they sent through to maybe sing with Jason.' He was like, 'I like it.' I said, 'So do I.'  The next morning I called my manager and said, 'I think I like this. What's the next step? What do we do?'
"And then it was like bam bam bam, which I really feel like is cool," she continues. "So many times you get a song recorded and you're really excited about it, and then you have to wait like a year before everybody else hears it. We had so much instant gratification recording this song."
Two members of Aldean's own band, Kurt Allison and Tully Kennedy, penned "If I Didn't Love You," along with Lydia Vaughan and John Morgan. The song is from Aldean's upcoming 30-track Macon, Georgia album, coming in at the last minute to be included on the project.
"I think from the time they wrote it to the time we had Carrie on it was maybe two weeks," Aldean recounts. "So, it happened pretty quick, and it was just one of those songs when I heard it for the first time that she was the first person that I thought of."
Aldean is beyond grateful that the writers were able to knock out "If I Didn't Love You" in time for the record.
"Carrie's somebody I wanted to work with for a long time, and it's just hard when you want to do that, but you don't have the song," Aldean acknowledges. "I feel like you're kind of chasing the song a lot of times and so, some of the guys in my band and a new artist that I'm working with, John Morgan, went in and wanted to try to write a duet and came out with this song."
Aldean and Underwood will perform the song during the 2021 CMA Awards. The show will air live from Nashville's Bridgestone Arena on Wednesday, November 10, at 8:00 PM ET on ABC.