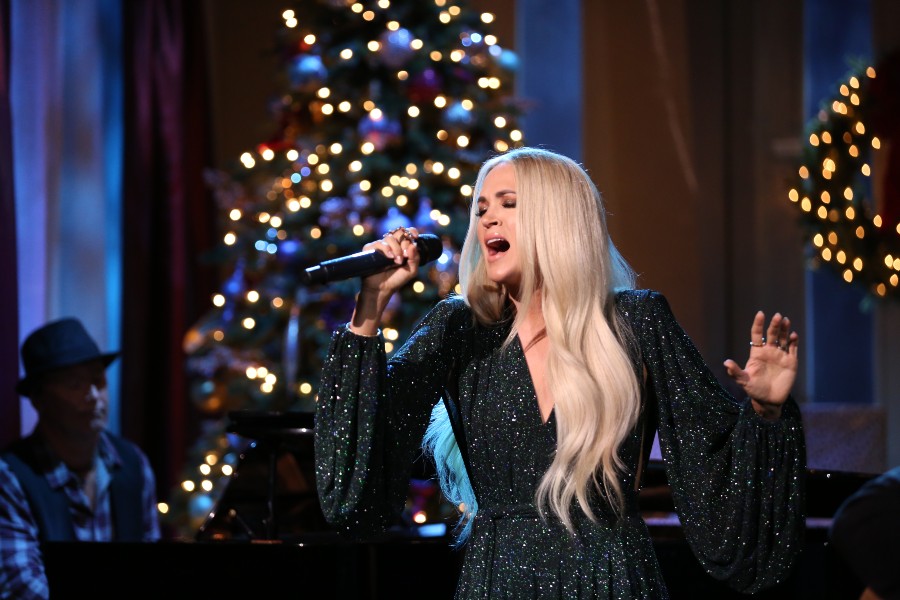 Several stars are lending their talents for the upcoming CMA Country Christmas, including Carrie Underwood, Lady A and Brett Eldredge. The event, which will air on Monday, November 29 at 8:00 PM ET, will be co-hosted by Carly Pearce and Gabby Barrett.
The Country Music Association announced the star-studded lineup in a video shared on social media.
.@GabbyBarrett_ & @CarlyPearce host #CMAChristmas feat. holiday performances by @JimmieAllen with @LouisYorkMusic & @TheShindellas, @GabbyBarrett_, @Breland, @BrettEldredge, @LadyA, @CarlyPearce, @PistolAnnies, @CarrieUnderwood, & @LaineyWilson. The magic begins 11/29 on ABC. 🎄 pic.twitter.com/PCXL3kj4Vs

— CMA Country Music (@CountryMusic) November 15, 2021
While it is unclear which song each artist will perform, Underwood has plenty of options to choose from, including the tracks on her latest My Gift (Special Edition) record, or her just-released "Stretchy Pants" song, with proceeds from the latter benefiting The Store, a Nashville-based organization started by Brad Paisley and his wife, Kimberly Williams-Paisley, to help those with food insecurity.
"People know that I am a champion for a healthy lifestyle, but a big part of that is balance," Underwood said of the inspiration behind the song, which was written by Underwood, along with Hillary Lindsey and Chris DeStefano. "There are times to be disciplined, and then there are times when we need to eat and drink and be merry and enjoy ourselves with family and friends."
Pearce, who will likely also perform, just dropped a surprise new song, "Mary, Did You Know?" to help usher in the holidays.
Pearce is still reveling in her newfound title, of CMA Female Vocalist of the Year, after taking home the trophy last week.
"You have to know and understand how badly I wanted to win Female Vocalist of the Year," Pearce said backstage after her win. "As a little girl. I would watch the CMA Awards, see all the women who'd come before and dream one day I might be up there, too. But when it happens? When you're in the moment? Nothing can prepare you for that, and it's even more powerful, more exciting than anything I've ever felt in my life."
Other performers include Jimmie Allen with Louis York & The Shindellas, BRELAND, Pistol Annies and Lainey Wilson, along with two students from the Nashville School of Arts. Find more information at CMAChristmas.com.
Photo Credit: Hunter Berry/CMA