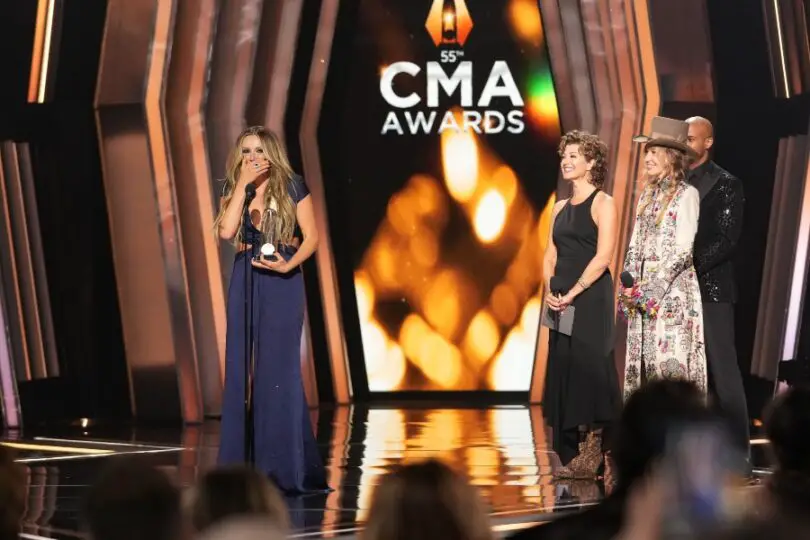 Carly Pearce knew she was having an amazing 2021, which included becoming a Grand Ole Opry member and opening for Lady A, but even she never predicted her year would also include winning the CMA Award for Female Vocalist of the Year.
Pearce was nominated along with an impressive list of female artists, including Ashley McBryde, Gabby Barrett, Miranda Lambert and Maren Morris, not imagining she would actually hear the awards presenters, Amy Grant and Lauren Daigle, say her name.
"Honestly, I think I blacked out," Pearce said backstage after her monumental win, adding that she heard Grant start to say her name before she waited on Daigle to finish. "I thought, 'Wait a minute.' … I heard my name, but it took me probably until I got up there to understand what was happening. I mean, I fell to my knees."
Pearce acknowledges that, even while accepting the industry honor, she still wasn't fully able to absorb what was happening.
"I started moving, but it didn't register," Pearce recalls. "Even standing there, I don't think I took it all in, or really believed this was happening. From where I was a year ago to this moment? How do you measure that, or take it in?"
A very emotional @CarlyPearce accepts the #CMAawards trophy for FEMALE VOCALIST OF THE YEAR for the first time, with a little help from fellow nominee @AshleyMcBryde! #WomenSupportingWomen ❤️ pic.twitter.com/O19X6Sph7a

— CMA Country Music (@CountryMusic) November 11, 2021
The Kentucky native, who was also nominated for Album of the Year (for 29), always had winning the trophy for Female Vocalist of the Year as one of the benchmarks of success in country music.
"You have to know and understand how badly I wanted to win Female Vocalist of the Year," Pearce reflects. "As a little girl. I would watch the CMA Awards, see all the women who'd come before and dream one day I might be up there, too. But when it happens? When you're in the moment? Nothing can prepare you for that, and it's even more powerful, more exciting than anything I've ever felt in my life."
It was heartache that led Pearce to pen the songs on 29, and later 29: Written in Stone, gaining an entirely new fanbase as a result, who were drawn to her honesty and authenticity. Already proud to share her story in a way that resonated with others, the 31-year-old could have never dreamed that the results would include a CMA Award.
"I come from a long line of really strong women, and I've watched a lot of really strong women in country music write their truth," Pearce says. "That's all I did. Regardless of what happened, I knew that I was doing exactly what I was supposed to do, and making the kind of music that I was supposed to make. To see it pay off in the way that it has, I can't even put into words how happy I am."
Want to watch more exclusive artist interviews? Click HERE to subscribe to our YouTube channel.