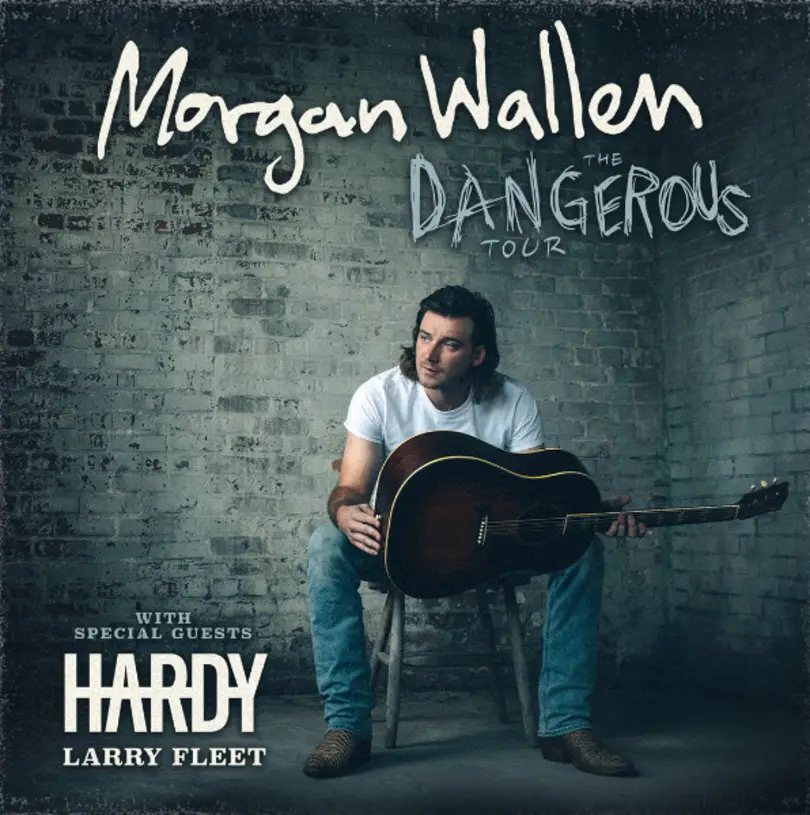 Morgan Wallen is hitting the road in 2022, and in a big way. The 28-year-old will embark on his massive The Dangerous Tour, kicking off on February 3 in Evansville, Indiana, and performing in a total of 46 cities, before wrapping up on September 24 with a show at the Staples Center in Los Angeles, California.
Wallen announced the news on social media.
Here we come.

Pre-sale for the first half of the tour will be tomorrow 11/16 – Text 865-351-6290 to receive the code

*On-sale differs so make sure to check when tickets go on sale in your market pic.twitter.com/ygjHXn0sSh

— morgan wallen (@MorganWallen) November 15, 2021
The Tennessee native spent most of the last year off the road, including canceling his run as the opening act on Luke Bryan's Proud to Be Right Here Tour, after a video surfaced of him uttering a racial slur. He did return to performing when Bryan's tour was in Nashville, joining Bryan, Jason Aldean and Tyler Hubbard to sing "More Than My Hometown," "Whiskey Glasses" and Aldean's "She's Country,"
"Thank you [Luke Bryan] for having me out last night brother," Wallen later wrote on social media. "Sharing the stage with you, [Jason Aldean] and [Tyler Hubbard] was one of those moments I will never forget. Thank you Nashville for welcoming me so warmly. And to the rest of my fans, we will recreate this soon."
Wallen was nominated for one CMA Award, for Album of the Year (for Dangerous: The Double Album), although he was not allowed to attend. The trophy went to Chris Stapleton, for Starting Over, with Wallen seeming to respond to his loss after the ceremony.
"I wake up every morning and thank the Lord for my blessings," Wallen tweeted. "Tomorrow morning will be no different. I love y'all."
In the immediate aftermath of the racial slur, Wallen apologized for the incident,  He then disappeared from social media for two months, returning to say he had worked on himself while he stepped away from the music industry, and his fans.
"2020…man, what a tough year for so many," he said as part of a lengthy letter he handwrote. "For me, my rough year carried into 2021. I've made some mistakes, I'm figuring those out, and I apologized because I was truly sorry and have been making amends. I wanted to let you guys know that I've taken a couple months away and feel like I've really worked on myself. I'm proud of the work I've put in, and in many ways thankful to have had the time to do it.
"I moved to Nashville at 22," he continued. "I never really gave myself a chance to survey the man I became during that time. I can already see a big difference between 22-year-old me and 27-year-old me. I hope there's a big difference between the 27-year-old me now, and the 32-year-old me one day. I will always strive to be better. Not only has this time revealed to me the ways in which I want to improve but it's also reminded me that I am still very proud of who I am and the man I am becoming."
In July, Wallen said on  Good Morning America that he was unaware that the word he uttered was so offensive.
"I think I was just ignorant about it," Wallen said. "I don't think I sat down and was, like, 'Hey, is this right or is this wrong?' … I've heard some stories in the initial conversations that I had after that — just how some people are treated even still today, and I'm just, like, I haven't seen that with my eyes — that pain or that insignificant feeling or whatever it is that it makes you feel."
Wallen will be joined by HARDY and Larry Fleet for his tour. Tour dates, which include a stop at Nashville's Bridgestone Arena on March 17, can be found at MorganWallen.com.