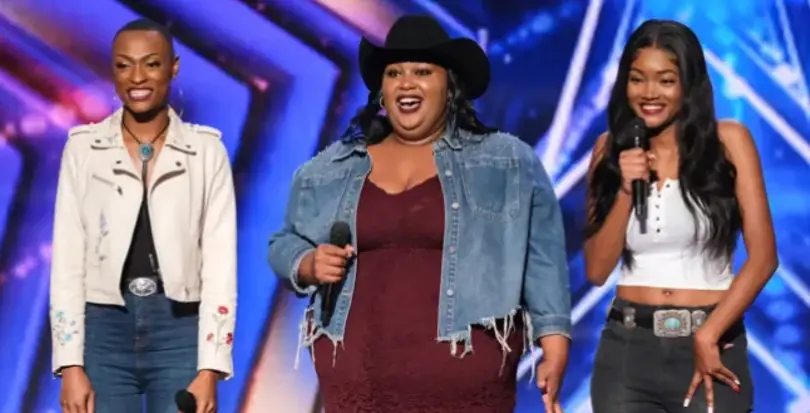 Chapel Hart saw the entire trajectory of their career change, after earning a coveted gold buzzer on America's Got Talent, by singing an original song, "You Can Have Him, Jolene," in response to Dolly Parton's "Jolene." The trio, made up of sisters Danica Hart and Devynn Hart, and their cousin Trea Swindle, quickly earned praise from Parton, as well as Loretta Lynn, and an invitation to perform on the Grand Ole Opry.
Now, as they watch their long-awaited career take off, Chapel Hart is setting their sights even higher, revealing a few country artists they dream of collaborating with.
"In the next year, I just want to open for everybody," Danica reveals on the CMT Hot 20 Countdown. "Zac Brown, can you sing a duet with me, please? Garth Brooks, I don't even think he has openers. I just want to come and sing with him. I want to sing with everybody."
When Devynn adds that she'd like Carrie Underwood to call them, Danica says they want to do much more than sing with Underwood.
"And honestly, we pretty much just want to make friends and sing with you, for the whole year," Danica quips.
Chapel Hart also has another country artist on their list of dream collaborations: Toby Keith. The threesome revealed they hope to someday tour with Keith, breaking into an impromptu performance of "I Wanna Talk About Me."
"Everybody wants to be like Toby Keith. 'I wanna talk about me, wanna talk about I,' Trea says. "But actually, I want to go on tour with Toby Keith too."
Chapel Hart earned rave reviews for their "You Can Have Him, Jolene" song, but ironically, that song wasn't their first choice. The threesome planned on honoring Parton by singing "9 to 5," but at the last minute the producers suggested their original song instead.
"When we initially went in, we were going to do '9 to 5' by Dolly Parton, but you had to have a backup song," Devynn recalls to Garden & Gun. "So, we had been rehearsing '9 to 5' the whole time, but at the very last minute [the producers] were like, 'Let's just hear your backup song.' And when they heard it, they were like, 'Nope, that's it. That's the one we're doing.' We had to completely change gears the day of [taping]."
Chapel Hart will perform on the Grand Ole Opry on September 17. Find music and tour dates at ChapelHart.com.
Photo Credit: Courtesy of Trae Patton/NBC/America's Got Talent