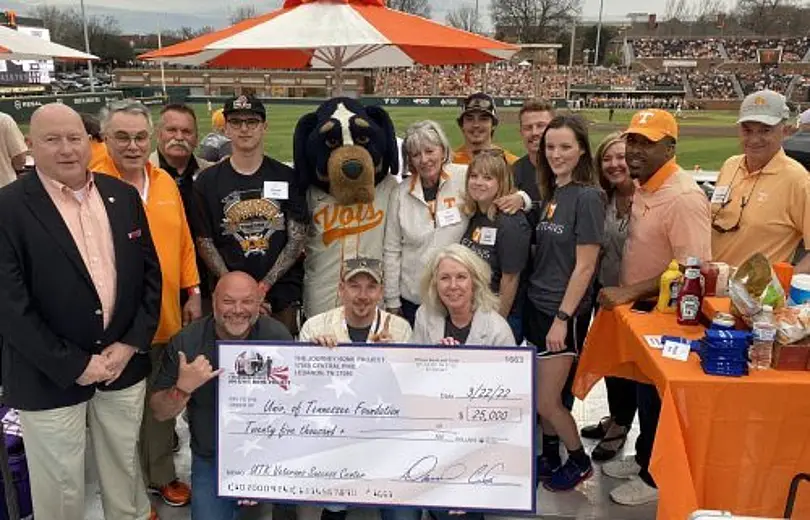 Charlie Daniels may no longer be with us, but his commitment to veterans and causes that support those who served lives on.  The Charlie Daniels Journey Home Project, renamed in Daniels' honor after he passed away  in 2020, just donated $25,000 to the Veterans Success Center at the University of Tennessee, Knoxville.
David Corlew, co-founder of The Charlie Daniels Journey Home Project, and Daniels' longtime manager and friend, along with Major General Terry "Max" Haston (retired) visited the center to meet with student veterans. They also attended the Tennessee vs. Butler home baseball game, where a for a check was presented to Jayetta Rogers, Director of the Veterans Success Center, and Leonard Clemons, Associate Vice Provost for Student Success.
"Continuing education has and continues to be an important step in the reintegration of many returning veterans," Corlew says. "Charlie had a close relationship with the University of Tennessee, so it's our mission to support our veterans that are pursuing their educational needs. The Veterans Success Center is growing daily with Jayetta and the team, and we are proud to be of assistance in any way possible."
"Ensuring that veteran students have a solid foundation for success is the reason that The Charlie Daniels Journey Home Project supports our state universities' veterans centers," adds Haston. "TCDJHP believes that assisting and supporting veterans in obtaining a quality education is a critical phase line in their 'Journey Home. We hope that by contributing to the University of Tennessee Veterans Success Center will start a habit for others to follow ensuring the center's future."
Corlew, one of Daniels' closest friends and confidants, knew when Daniels passed away that the Grand Ole Opry member would want Corlew to continue the work they both started.
'I'm doing what I think Charlie would expect of me," Corlew told Everything Nash last year. "Obviously I'll always miss him. He's been such a big part of my life. I spent my entire adult life — I spent more time with him and anybody else in a lifetime. So I miss him every day. There's always something that reminds me one way or the other of our friendship and relationship. I'm going to keep moving forward, keep doing what he would expect of me. Do the work."
For more information, or to make a donation in Daniels' honor, visit TheCharlieDanielsJourneyHomeProject.org.
Photo Credit: Courtesy of UT Knoxville