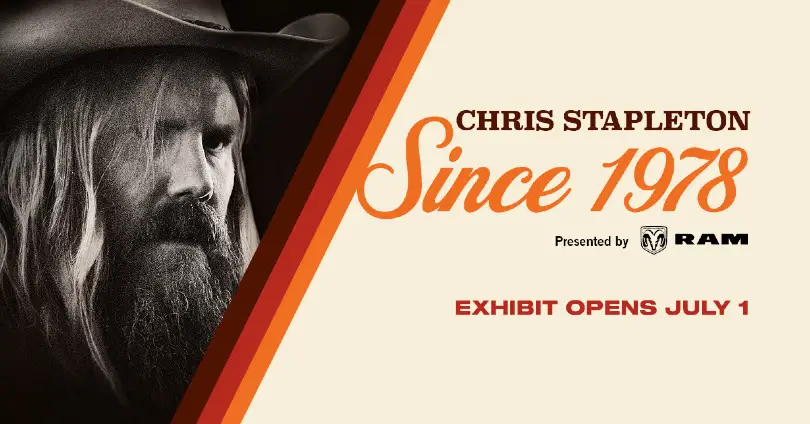 Chris Stapleton will soon receive a huge honor. The 44-year-old will have an exhibit, Chris Stapleton: Since 1978, open at the Country Music Hall of Fame and Museum. The exhibit will be open on July 1, and remain open until May 14, 2023.
"Chris Stapleton is a powerful and emotive singer, a prolific and poetic songwriter and a skilled and expressive guitar player,"  Kyle Young, Chief Executive Officer for the Country Music Hall of Fame and Museum, says. "His rise as a successful artist may have seemed instantaneous to many, but he has been a force in country music for more than 20 years – whether writing hit songs for other country artists or contributing to studio recordings.
"Throughout it all, he has maintained his own unique perspective by staying true to his authentic self and artistic vision," he adds, "and he continues to open the door to country music for new fans across generations and genres."
Chris Stapleton: Since 1978 will include numerous personal and professional artifacts from Stapleton's career and personal life. Items in the exhibit will include his1966 Gibson Trini Lopez Standard electric guitar, used during the recording of his song "Traveller"; the Pendleton flannel jacket, Dee Cee denim western shirt, and Manuel leather vest worn by Stapleton on the album cover of Traveller: Stapleton's first guitar amplifier, a 1960s Gibson GA-8 Discoverer, which he used extensively, including at performances in the early 2000s, and much more.
Stapleton won three Grammy Awards earlier this year, bringing his total amount of Grammys up to eight. The industry recognition was bittersweet for Stapleton, who had to miss an important family milestone to attend the ceremony.
"I'm a dad of five, and today is my twins' birthday," Stapleton said at the time. "They're four years old. So I'm thinking a lot about sacrifices, 'cause I missed out on some of their birthday today. Everybody in this room has made some kind of a sacrifice to be up here doing this, and I don't know what it is for everybody, but I know that it hurts sometimes. But hopefully we're all doing it so we make the world a better place, and the people that live in it will love each other and have a good time together and come together."
More information on Chris Stapleton: Since 1978 is available here.