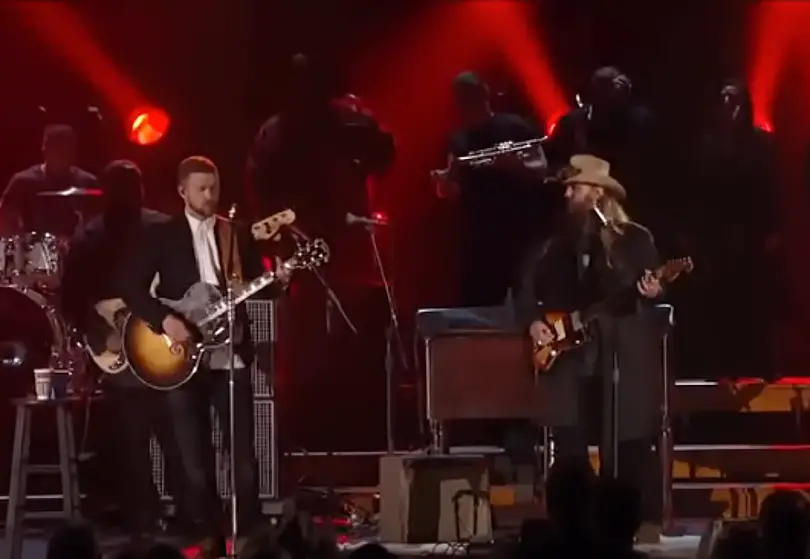 Chris Stapleton was already earning notoriety in Nashville, and the country music community, before he became friends — and later a duet partner — with Justin Timberlake. The Kentucky native, who dropped out of college to pursue music full-time, had a songwriting and a record deal, and was writing and releasing music that he loved, and that was beginning to resonate with other people as well.
But no one, especially Stapleton, could have predicted how much everything in his life would change, for the better, after he and Timberlake performed a medley of "Tennessee Whiskey" and "Drink You Away," on the 2015 CMA Awards stage.
"It was electric. kind of a lightning in a bottle kind of moment," Stapleton recalls on 60 Minutes. "That was one of them, for sure. Maybe the biggest one for us. Most people that were watching that show had never heard of me at that point. And then sales of that record went up, you know, a bazillion percent. And it was just nutty after that."
Stapleton won four CMA Awards that night, including for New Artist of the Year, and Album of the Year, for Traveller. It was that record, along with his stunning Timberlake collaboration, that helped kickstart his seemingly continuous reign as one of country music's biggest hitmakers. The album, perhaps ironically, began when Stapleton was in a career slump, unsure if he had even a future within the genre. His father passed away, his single died at radio, and Stapleton was deeply discouraged.
"The same month that that single died my dad also passed away in that same month," Stapleton recalls. "It was a bad month and I didn't feel great about it and I was in a real bad spot."
To make him feel better, Stapleton's wife Morgane, bought him a vintage Jeep he had his eyes on, even though it was 1600 miles away. The long road trip home became the career-defining Traveller.
"We did that whole record in a week," Stapleton recounts. "We were on a roll. And that's the only way I can describe it."'
Stapleton remains on a roll to this day, recently winning four of the five categories he was nominated in at the CMA Awards. But his success, however hard-earned, he makes clear is not his alone. It's his wife of 14 years, who also sings on the road with him and in the studio, who deserves just as much credit for his success, and maybe more.
"We're partners in every sense of the word," Stapleton says. "I know that I've talked about that before, but it's the truest thing I can say about what we do. She props me up when I need it and helps me find my way when I'm lost, and helps me cross the finish line when I'm having trouble doing that. So pretty much none of the music that we've made would exist without my wife."