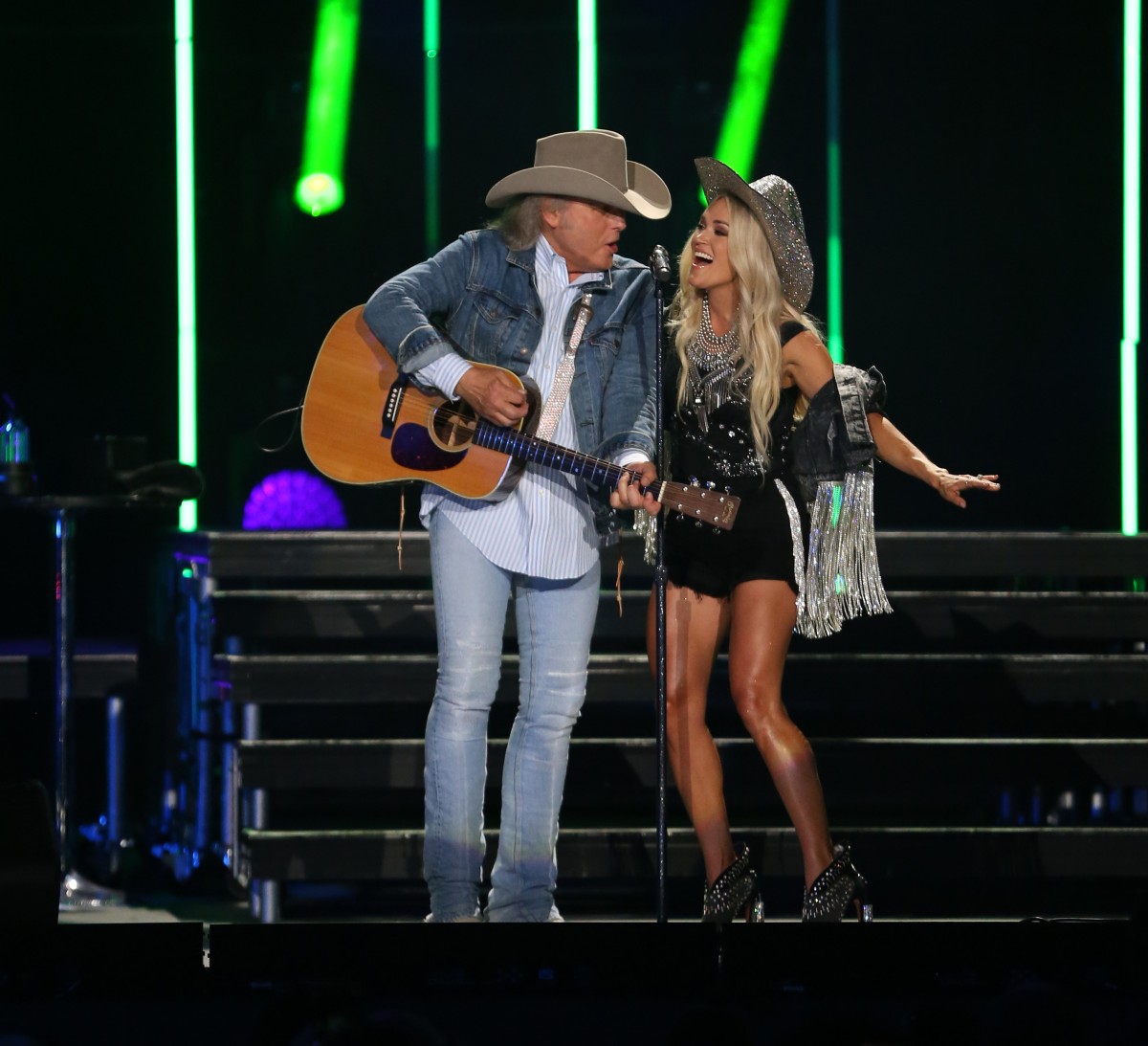 If you don't have any plans tonight, and you love country music, you're in luck. The three-hour CMA Summer Jam TV special airs Thursday night, September 2, on ABC, with performances by Luke Bryan, Carrie Underwood, Blake Shelton (which includes a Gwen Stefani duet), Thomas Rhett, Brothers Osborne, Lainey Wilson, Luke Combs and more.
CMA Summer Jam was filmed over two days, on July 27 and 28, at Ascend Amphitheater in Nashville. The event took place instead of the annual CMA Fest, which was canceled for the second year in a row because of the pandemic.
Bryan, who performs "Waves," "Down to One," "Country Girl (Shake It For Me)" and joins Cole Swindell on "Single Saturday Night," still vividly recalls his first time attending CMA Fest.
"Probably the first time I ever came to CMA Music Fest, we went and tailgated," Bryan recalled backstage ahead of his performance. "I went in as a fan, and nobody knew who I was. And then a few short years later, I was on the stage."
Who's ready for #CMASummerJam TONIGHT at 8/7c on ABC? My buddy @coleswindell and I hit the stage together, don't miss it. pic.twitter.com/ry5tR2t3x9

— Luke Bryan (@LukeBryanOnline) September 2, 2021
Underwood performed "Last Name" and "Church Bells," as well as both "Guitars Cadillacs" and "A Thousand Miles From Nowhere" with Dwight Yoakam.
"Never in a million years would I have thought I would get to share the stage with someone this cool!," Underwood gushed on social media after their performance. "[Dwight Yoakam], you are a LEGEND and, now, a friend as well! Thank you! #CMASummerJam Guitars…Cadillacs…And Cowboy Hats."
See a complete set list below. CMA Summer Jam will air at 8:00 PM ET on ABC.
CMA Summer Jam Set List:
· Jimmie Allen – "Freedom Was A Highway"
· Gabby Barrett – "The Good Ones"
· Dierks Bentley – "Gone"
· Dierks Bentley featuring BRELAND & HARDY – "Beers On Me"
· Brothers Osborne – "It Ain't My Fault"
· Luke Bryan – "Waves"
· Luke Bryan – "Down To One"
· Luke Bryan – "Country Girl (Shake It For Me)"
· Eric Church – "Heart Of the Night"
· Luke Combs – "Beer Never Broke My Heart"
· Luke Combs – "Forever After All"
· Luke Combs – "Cold As You"
· Florida Georgia Line with Thomas Rhett – "Round Here"
· Mickey Guyton – "All American"
· Miranda Lambert with Brothers Osborne + Dierks Bentley – "Midnight Rider"
· Miranda Lambert – "Settling Down"
· Miranda Lambert – "Kerosene"
· Miranda Lambert – "Tequila Does"
· Carly Pearce – "Next Girl"
· Darius Rucker – "Beers & Sunshine"
· Blake Shelton – "Boys Round Here"
· Blake Shelton – "God's Country"
· Blake Shelton – "Minimum Wage"
· Blake Shelton + Gwen Stefani – "Happy Anywhere"
· Cole Swindell with Luke Bryan – "Single Saturday Night"
· Thomas Rhett – "Country Again"
· Thomas Rhett – "What's Your Country Song"
· Thomas Rhett – "Crash & Burn"
· Carrie Underwood – "Last Name"
· Carrie Underwood – "Church Bells"
· Lainey Wilson – "Things A Man Oughta Know"
· Dwight Yoakam with Carrie Underwood – "Guitars Cadillacs"
· Dwight Yoakam with Carrie Underwood – "A Thousand Miles From Nowhere"