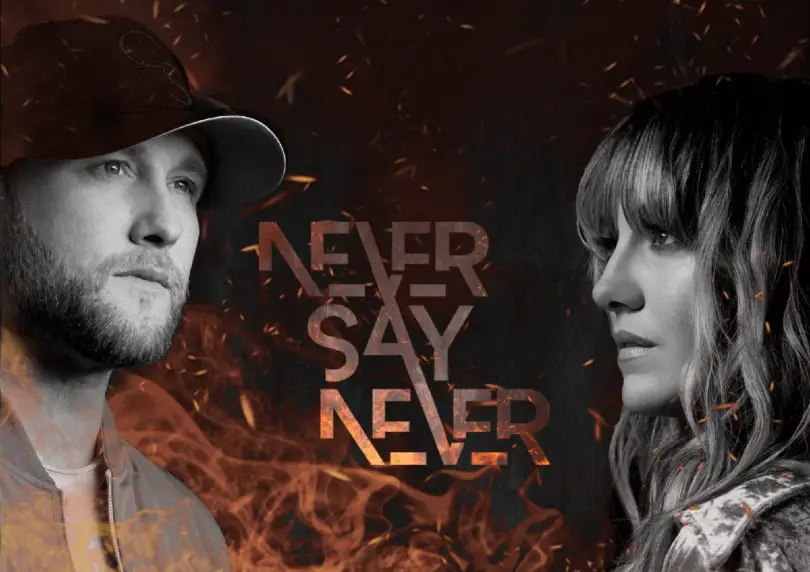 Cole Swindell and Lainey Wilson officially have the No. 1 country song in America, with their fiery "Never Say Never" duet. The song, from Swindell's latest Stereotype album, landed in the top spot on the charts a mere 23 weeks after it was released.
Swindell wrote "Never Say Never" with Jessi Alexander and Chase McGill, and immediately reached out to Wilson while she was on vacation, to see if she would sing with him on the song. He referenced the invitation to Wilson when reacting to having his 11th No. 1 single.
"Thank you Lainey Wilson for letting me interrupt your vacation with a song I knew could be super special if you were singing on it with me," Swindell shared on social media.. "Thanks to my ENTIRE team, Country Radio, all the streaming services and the fans for all the love on "NSN." Jessi Alexander and Chase McGill y'all are 2 of the best songwriters/humans around and I'm so proud to share this one with y'all! Zach Crowell and all the studio musicians brought this thing to life. Officially the #1 song in the country."
Feeling very grateful today. #NeverSayNever pic.twitter.com/8GF2MsaA3E

— Cole Swindell (@coleswindell) April 25, 2022
Wilson, who scored a No. 1 hit with her debut "Things a Man Oughta Know" last year, also spoke out about being part of the hit song.
"I knew this song was special the minute I heard it and I knew I had to be a part of it," Wilson wrote. "I'm glad my gut feeling was right. Cole Swindell, thank you for being in my corner and believing in me enough to let me be a part of your musical journey. Thank you to my team and Cole's team for coming together busting their tail. Thank you to Jessi Alexander, Chase McGill, and Cole for writing a song so special. And thank you country radio for making my dreams come true one song at a time. Cheers to another number one song, y'all. Let's go do it again. And again."
Stereotype marked Swindell's first new album since All of It was released in 2018, and no one was more ready than him to finally share more music with his fans.
"It's exciting," Swindell told Everything Nash and other outlets during a recent media event. "It's been three-and-a-half years since my last album. I don't know if it feels like longer or not that long. It's been a lot. We started working on the album right before the pandemic. I had some stuff that I was loving, and when all of that happened, it was obviously all put on hold. We couldn't record stuff, really. We couldn't make the album. But I also got to write a lot of songs."
Purchase Stereotype and find a list of all of Swindell's upcoming shows by visiting his website.