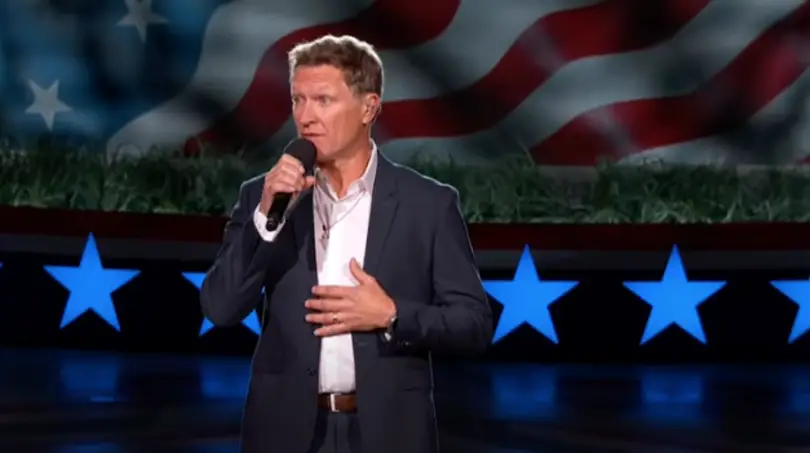 Craig Morgan offered a touching tribute during the National Memorial Day Concert, which aired on May 29 on PBS. The Army veteran performed "The Father, My Son and the Holy Ghost," written about the loss of his son, Jerry, in 2016.
The concert occurs annually to honor the families of those who have lost a loved while serving in the line of duty. This year's event honored Maj. General Mark Graham, USA (Ret.) and his wife Carol, who tragically lost two sons: 2LT Jeff Graham, killed in Iraq by an IED blast and Senior ROTC Cadet Kevin Graham, who lost his battle with depression.
"In the beginning, you think it's only happening to you, but then you realize there are so many other people who are struggling, hurting even more than you are,"  Major General Graham told PBS. "You don't have the corner on pain or loss."
When Morgan wrote "The Father, My Son and the Holy Ghost," he had no idea that he was writing somethig that he would share with the world, and would ultimately become a No. 1 song.
"It hurts. It's the most difficult song I've ever written," Morgan said on the Bobby Bones Show. "I wrote this by myself. I say that. I tell people God wrote this song; He just used me and the pen and paper I had in my hand. I cried for four hours when I wrote this song. Still to this day, it's very difficult for me to sing. But I do it because I know; I don't just believe it now –– God has shown me and I know. I've seen the emails, I've seen the Facebook messages, the tweets, the Instagram posts, what this song has meant to other people.
"When it gets played by someone, and it becomes the most downloaded song of all genres …" he continued. "When we were on Fox & Friends, when we were on the Today Show, Kelly Clarkson –– every time we did that, every time we did an appearance, that song became the most downloaded song of all genres. You know when that happens, it's impacting people's lives. And that's why I do it. That's why I sing through the pain."
Morgan will release his God, Family, Country memoir on September 27. The book will cover Morgan's entire life and career, including his time serving in the military, his transition to being a country music artist, the loss of his son Jerry and more.
"We would start talking about certain things that have happened in my life, and especially after the loss of our son, after Jerry died," Morgan told People, "I'd meet people and they'd say, 'I don't understand how you have the attitude you have, after having lost your son.'
"I realized that I had such a love for God that I was able to do something with that," he continues. "And I realized that, with so many people telling me, maybe God was trying to tell me something."
Morgan is an outspoken supporter of Operation Finally Home, a nonprofit that provides mortgage-free homes and home modifications to wounded, ill and inured veterans. He recently surprised Operation Finally Home executives with a check for $100,000, while at the Grand Ole Opry for its Salute the Troops show. The generous donation included $70,000 that Morgan won by appearing on CBS' Beyond the Edge, along with $30,000 provided by Monster Energy Cares.
Morgan will embark on his God, Family, Country Tour on October 19. Find music and tour dates by visiting his website.