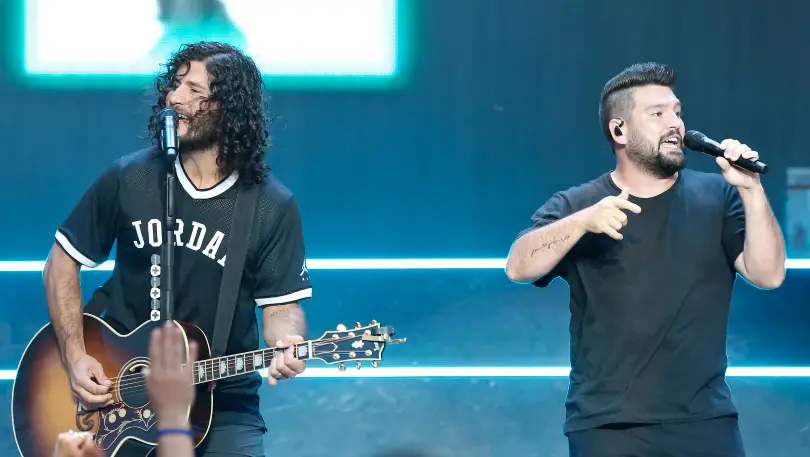 Dan + Shay love — as in, really, really love — being on the road with Kenny Chesney. The duo, made up of Dan Smyers and Shay Mooney, feel like they struck tour gold when they were invited to join Chesney on his Here and Now Tour, a chance to perform in front of the massive crowds Chesney brings in night after night.
"I think I can speak for both of us: this is the most fun that we've ever had touring," Mooney tells CMT. "I mean, we had obviously finished our headlining tour back in the fall, and that was incredible. But it was a big breath of fresh air because all the pressure is on you on your headlining tour, and we don't have to worry about that. So, if nobody shows up, it's Kenny's fault. We didn't do it.
"But Dan and I are up there," he continues. "He has a platform in the middle of the stadium right behind front of house, and Dan and I are up there every Saturday night, just cracking a cold beer and just having the time of our lives. It's unreal."
For men who are quite adept at filling large arenas on their own, it's a welcome relief indeed to enjoy the fruits of Chesney's labor while on tour with him.
"This is the most chill summer ever," Smyers boasts. "We're on the road with Kenny on weekends, and then we're home. We're making new music during the weeks, and it's fantastic. We're such fans."
Dan + Shay aren't just relaxing when they are at home. Both Smyers and Mooney are also focusing on writing songs, which is how they got together in the first place, almost a decade ago.
"We've been really focusing on our relationship, getting back to the roots and doing what we love, and that's sitting down with an acoustic guitar and writing songs," Mooney explains. "It's been the best, one of my favorite times that we've ever had together. It's a really, really good time. So, we're just focusing on that right now and focusing on the music and just open to see what's next."
Dan + Shay combined their love of Chesney and their love of songwriting recently into a new song, which they recently shared on social media, touting their appreciation for Chesney, and how much he has influenced their own career.
"We knew this weekend would be emotional and full circle getting to play Nissan Stadium in Nashville with Kenny Chesney, so we decided to hop on the bus early and write a song," the pair captioned the video. "Being on this tour is a dream come true for us for so many reasons, but mainly because we grew up going to these shows every summer and singing our hearts out. We're grateful that we get to stand on stage every night and do what we love, but at the root of it all, we're still just two die-hard country music fans who lucked out and got a pair of front row seats."
The Here and Now Tour also includes Old Dominion and Carly Pearce. Find music and tour dates at DanandShay.com.