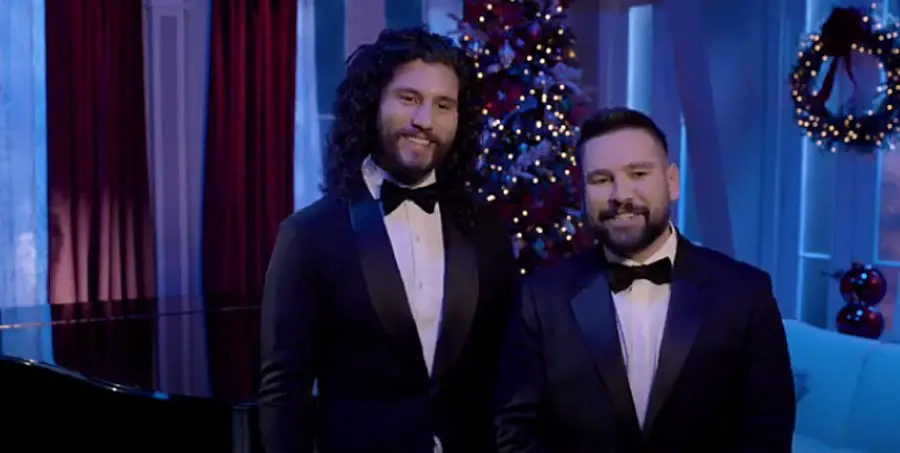 Dan + Shay just released an original holiday song, "Christmas Isn't Christmas." The duo, made up of Dan Smyers and Shay Mooney, wrote the song inspired by their own wives, and the way they impact their lives, especially at the holidays.
"We wrote one called 'Christmas Isn't Christmas,' and it's near and dear to our hearts," Dan tells the Country Music Association, ahead of their CMA Country Christmas performance of the song. "It's a song that we wrote about our wives. The holidays are that much more special with family. Especially this year, we all need that lift, that holiday spirit. Christmas Isn't Christmas if it's not with you.
"All these things can still be happening; we can still have that beautiful vibe, the Christmas trees, all the lights," he adds, "but if you're not with the one that you love, then it all means nothing."
Both men plan on celebrating Christmas at home with their families, which for Dan and his wife, Abby, also means their numerous pets as well.
"Christmas morning, it's the best," Dan gushes. "It always has been, and it still is. With four dogs, it's a lot. We give the dogs lots of presents, and they're running around, eating all their toys and treats. We usually spend it out at our farm, and it's the best time ever. This year I'm hoping for a little snow on Christmas."
For Shay and his wife, Hannah, Christmas will also be special because of their new addition, Ames, who was born in February, becoming a younger brother to the couple's three-year-old son, Asher.
"This will be my youngest's first Christmas, Ames," Shay shares. "And Asher, he knows kind of what's going on. He usually just plays with the boxes, so maybe this year he'll actually look at the gifts this year."
Dan + Shay have spent at least part of 2020 working on a new album. The upcoming, still-untitled new record will include both their record-breaking single, "10,000 Hours" featuring Justin Bieber, as well as their current single, "I Should Probably Go to Bed."