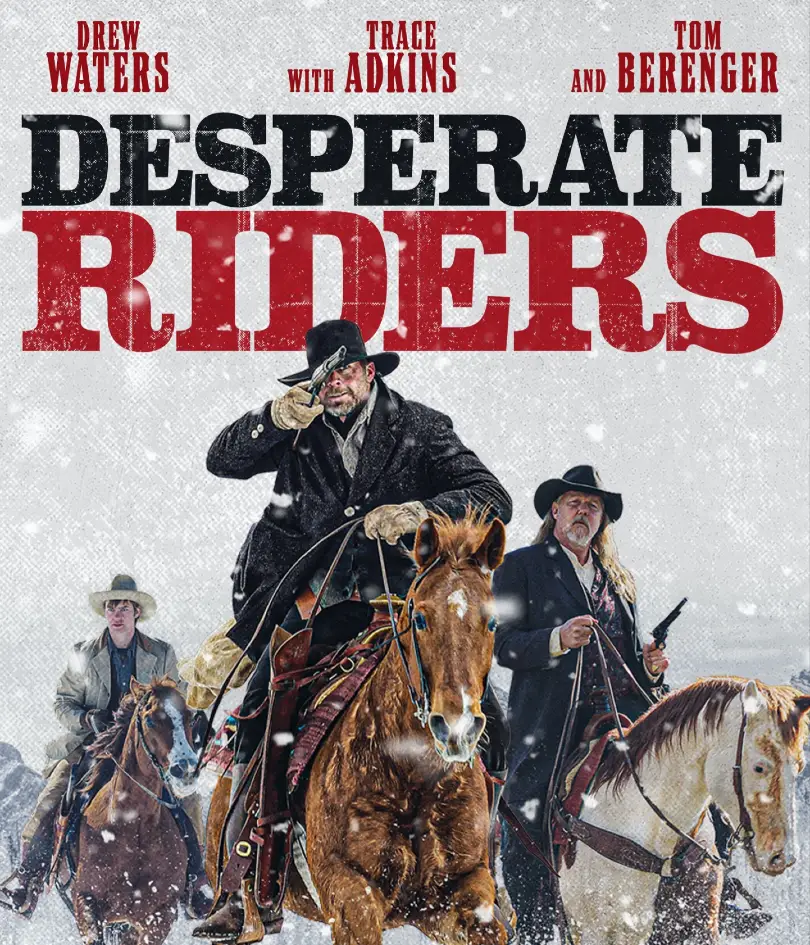 Desperate Riders is a new, dramatic Western, with Trace Adkins playing a villain, starring opposite his real-life wife, Victoria Pratt. The film also stars seasoned actress Vanessa Evigan. Evigan, the daughter of My Two Dads star Greg Evigan, has already carved out a name for herself, appearing in TV shows such as Boy Meets World, How I Met Your Mother and more, along with numerous films and TV movies.
Evigan wasn't necessarily looking for a new role, but when she heard about Desperate Riders, she knew it was too good of an opportunity to pass up. Evigan plays Leslie, a beautiful but tough woman who is captured by a terrifying villain named Thorn, played by Adkins. Leslie manages to escape, but will stop at nothing to rescue her best friend, Carol, played by Pratt.
"It was definitely intense filming some of those scenes," Evigan tells Everything Nash. "The scene where I get captured and then I escape, those scenes were very, very real feelings. Hopefully it comes across that way on the screen the way it did when we were filming it. We did have a lot of fun filming it, and the cast was wonderful. The actors were just such a joy. So it made that intensity so much better for me, because there's a lot of action and violence. There's a lot going on there. And so, it was definitely nice that there was such love on the set with everybody. We all just got along great. Everyone was very respectful of each other."
Evigan loved working with all of the cast members, but especially Pratt, with whom she developed a close relationship, thanks to the time they spent working on Desperate Riders together.
"She's truly incredible," Evigan boasts. "We actually hit it off really well. We were drinking margaritas weeks later. Having her, there was an immediate connection and chemistry for us. She just felt like a best friend to me right away, so it was perfect that we were playing best friends. Having Trace Adkins play a villain, but be her husband, was so much fun. It was really neat to see the two of them work together. I've always been a fan of Victoria's, so to see her in that kind of a role with her husband was really neat."
Cowboy Troy marked his first major acting role in Desperate Riders, earning high praise from Evigan in the process.
"Cowboy Troy couldn't have been more kind and loving. He was so good," Evigan says. "He was so, so, so sweet and funny, and fun to be with. He just made everything even better."
Michael Feifer, already an acclaimed director and producer, personally reached out to Evigan to star in Desperate Riders.
"He had directed me before in a film for Lifetime years before [Born and Missing]. I was actually pregnant with my son," Evigan recounts. "So it had been about five years ago, and he's also worked with my dad and my sister, so I knew him already, when we did that movie. So when he called me about this, he said, 'I've got this film that I'm trying to get it greenlit. We need a couple of country music stars, and I would love for you to play the lead.' And I thought, 'Gosh, what an honor.' You don't get offers like that very often."
As soon as Evigan read the Desperate Riders script, she knew she wanted to tackle the role of Leslie in the film.
"There's so much range in this film," Evigan praises. "The emotions, and being on horseback and being the main female actress who's carrying this film, and trying to find her best friend, and holding the rifle — all these different things that I had never done. I'm not a gun person, so learning to hold it the right way, learning everything that I needed to know about everything and with safety, and looking like I knew what I was doing when riding the horse … I'm like, 'How could I not want to do a film like this?' Obviously, there's a lot of intensity."
Adding to the appeal of starring in Desperate Riders was the "huge bonus" that it happened to be filmed in and around Nashville, where she currently resides with her husband and children.
"My kids are here, and I live here now," Evigan says. "I just couldn't believe that a film that read that way, that looked so wonderful with such a great role for me, would film here. So it was like, 'Okay, thanks, God. I think I'll take this. Maybe it's a sign that You want me to keep acting.' … It was pretty incredible to be filming here and just get to go home to my kids right afterward."
Desperate Riders will be available in select theaters, as well as in both digital and on-demand formats on Friday, February 25. It will be released on Blu-ray and DVD on April 5.