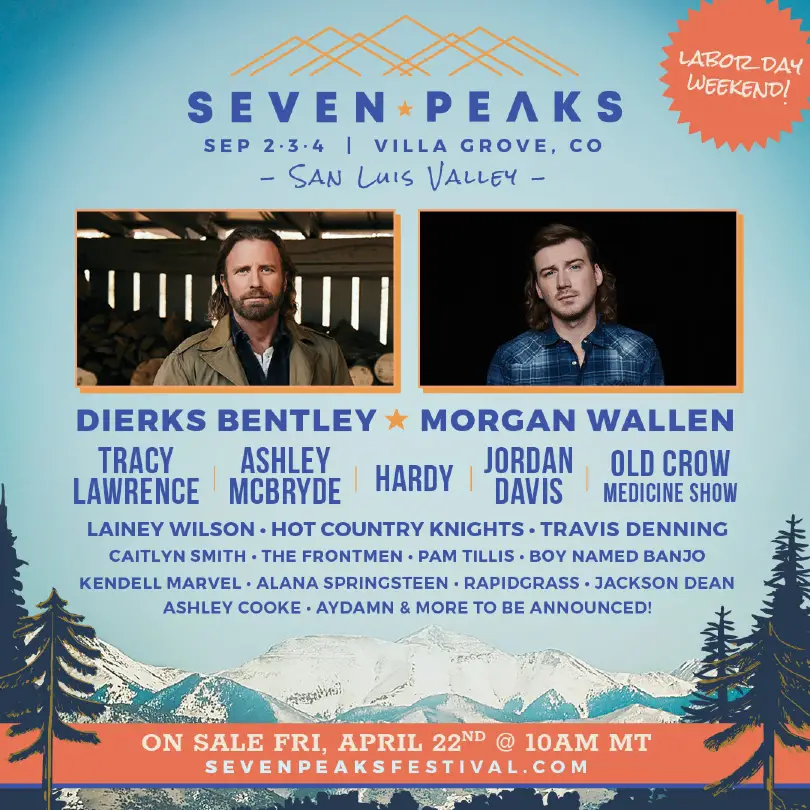 The lineup for Dierks Bentley's Seven Peaks Music Festival has been announced, with Bentley and Morgan Wallen serving as the event's co-headliners. The three-day event, held September 2 to 4 in Buena Vista, Colorado, will kick off on Friday night with a lineup of '90s country music, including Tracy Lawrence, The Frontmen and Pam Tillis, along with Bentley's own Hot Country Knights.
Bentley knew during an earlier performance at Seven Peaks Music Festival in 2019, when Wallen was playing with HARDY — and Bentley was blown away by his performance — that he wanted Wallen to be part of Seven Peaks Music Festival.
"Morgan is one of the biggest stars out there in country music right now, drawing the most folks ever out there," Bentley says (via Taste of Country).  "I love his music. I love what Joey Moi is doing as a producer on his music. It just has a very country feel to it. The instrumentation is beautiful, and of course, great songwriting."
Bentley was forced to cancel his Seven Peaks Music Festival for the last two years, due to the coronavirus pandemic. It was a setback that the Arizona native now admits he wasn't sure the festival would ever recover from.
"When you have a festival in its infancy — year three would have really been a big year for us," Bentley says.  "Probably would have maybe broke even. But it wasn't even about the money — it was [about] getting to be something people wanted to come back to, to start to be self-sustaining. To lose two years back to back, it's hard. I honestly wasn't sure if we'd get another shot to do this festival, because of that and having to change locations.
"But it's just a super important festival to me. It's one of my favorite things of everything I've done," he continues. "I hope it carries on long after I'm gone. I love this whole concept of the Colorado-based country festival that has this feel, and different kinds of music. And it only works if you have a guy or girl the night opposite of me that can carry the weight."
Other artists performing at the Seven Peaks Music Festival include Boy Named Banjo, Ashley Cooke, Jordan Davis, Jackson Dean, Travis Denning, HARDY, Kendell Marvel, Ashley McBryde, Old Crow Medicine Show, Caitlyn Smith, Rapidgrass, Alana Springsteen and Lainey Wilson.
Tickets will be available beginning April 22 at SevenPeaksFestival.com.