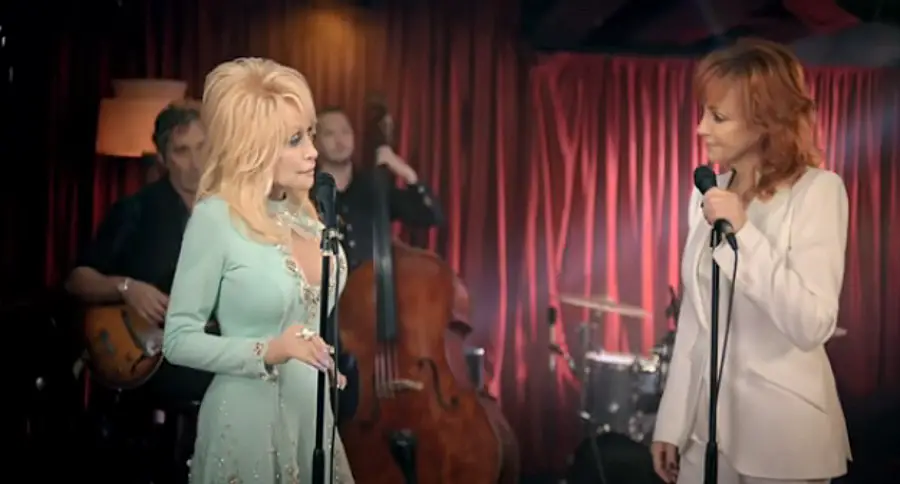 Dolly Parton and Reba McEntire are currently back at radio with their new version of McEntire's "Does He Love You." The song, from McEntire's recent REVIVED REMIXED REVISITED project, marks the first time the two Country Music Hall of Fame members have recorded a duet together, though they've been friends of each other for many years.
"We've known each other so long, we really feel where we're gonna go," Parton says (via CMT's Cody Alan). "I knew what she was feeling when she was singing certain notes, and I thought, 'Well, I'm not gonna let her out-sing me.' I love her singing… I'm gonna have to really, really woman up on this one."
Parton might have just recorded her first duet with McEntire, but she's been and admirer of McEntire's vocal talents for a long, long time.
"I've been a fan of Reba's for years, and we're very similar in the way we work and the way we sing, even," Parton gushes. "We didn't even realize we had not done a duet. We'd often talked about (recording a duet together), but we've performed on different shows together, we've sang with other people…So, when Reba … she asked if I would sing with her, and I said, 'Are you crazy? Of course, I will!'"
McEntire was just as happy to sing with Parton as Parton was to sing with her. Despite knowing Parton for decades, she admits she was still stunned by how well the finished product turned out.
"I asked her when we were shooting the video," McEntire said on Apple Music Country's Proud Radio with Hunter Kelly, speaking of Parton's process for recording the song. "She said, 'I just sing what I feel.' I said, 'How did you come up with when you came in and all that?' She said, 'I just sing what I feel.' And I loved it. I don't know how many takes she did. Probably one. It was so powerful when she does come on strong, [on] 'when I'm deceiving myself.' It was just, oh my gosh, [it] gave me chills. And I sat there the first time I heard it, I said, 'Play it again.'"
McEntire just announced her Reba: Live in Concert Tour, kicking off on November 26 with two back-to-back shows in Oklahoma. Find tour dates and all of McEntire's music at Reba.com.