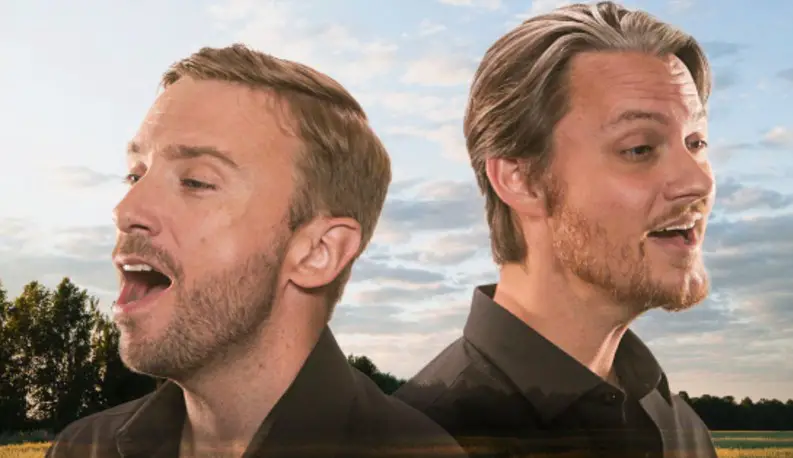 Home Free's Tim Foust is lending his vocals to another song, this time with renowned a capella singer, Peter Hollens. The two combined their talents on "Teach Your Children." The song was first released by Crosby, Stills, Nash & Young in 1970, as part of their Deja Vu album.
Foust announced the collaboration on social media, the same day Home Free dropped their stunning "Brothers in Arms" video, from their latest Land of the Free record.
This isn't the first collaboration Foust has done with Hollens. They've joined their voices on several other songs through the years, including "Misty Mountains," "The Sound of Silence," and "Fire and Rain," among others.
Foust also recently dropped a collaboration with his fellow Home Free member, Austin Brown. The two did a cover of "My Maria," which was a big hit for Brooks & Dunn in 1996.
Home Free has released plenty of powerful songs over the years, but perhaps few with as an important of a message as "Brothers in Arms."
"When political and other divisions split us, we have to take a step back and remember that we always have more in common with each other than we have that is different," Home Free says of the song. "We need to see all of our fellow human beings as the brothers and sisters we are, so we can live in a more harmonious society."
Home Free is currently on their Dive Bar Saints Tour, which had to be postponed last year because of the pandemic.
"We'll be playing catch up for, for a while now," Foust tells Everything Nash of their tour, which includes the Canadian dates resuming in 2022. "But our fans have been so patient and understanding for the most part. Everybody is missing live music, us included. We're so excited to finally bring our show back to people who have been desperately craving it for a couple of years now."
Purchase Land of the Free and find Dive Bar Saint Tour dates by visiting HomeFreeMusic.com.