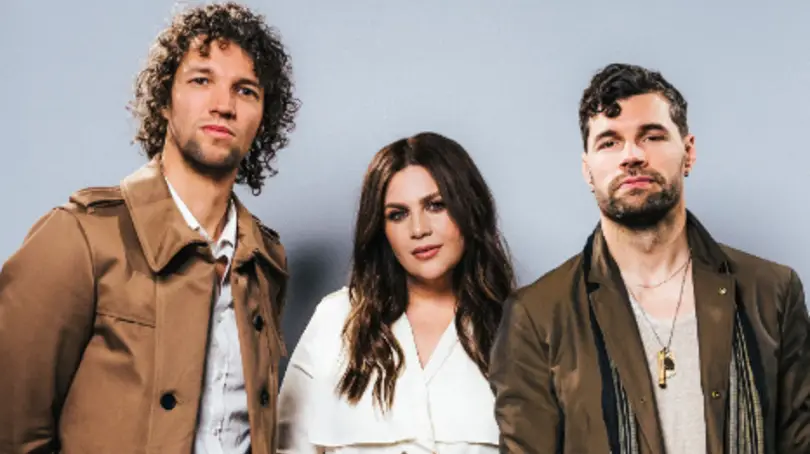 For KING & COUNTRY recently released a new version of "For God Is With Us," featuring Lady A's Hillary Scott. The collaboration with the duo, made up of brothers Joel and Luke Smallbone, came about because Joel and Scott attend church together, and he had the idea to bring her voice into their latest No. 1 hit.
"She saw herself in it," Joel tells CMT. "She saw the heart of it and felt that her voice had a place in it. That's the test, right? It's like setting aside all the marketing layers and the opportunistic side of it; if someone finds their voice through it, that just feels like it has to happen."
Joel had nothing but high praise for Scott, and the way her voice made the powerful song come alive.
"We've dubbed this FOR KING + LADY," Joel jokes. "She's great in Lady A, but I think because of the dynamic and the way they approach her vocal, there was something about the grit and the intensity, and maybe it was the gospel component to it that she was just so excited. I'm so proud of her, and I'm so proud of it. I say this politely to our own version, but it's the superior version to me. It takes the song to another place it wasn't at before."
Scott previously said she was honored to join the award-winning Christian act on "For God Is With Us."
"I'm truly humbled that FOR KING & COUNTRY asked to add my vocal on such a powerful song," Scott said in a statement. "Personally, it was a treat for me to collaborate with them, and now I'm excited to share it."
For KING & COUNTRY included "For God Is With Us" on their What Are We Waiting For? album. Although they originally intended for the song to be on their A Drummer Boy Christmas project, both Joel and Luke quickly realized the song had a message that extended far beoynd the holiday season.
"I love Christmas," Joel explains. "It's my favorite holiday, but we should be celebrating this all year round. We should be celebrating the redemption of humanity and the sacrifice of Jesus and being made right with God. These are great principles that have been around for thousands of years now, so this should be a year-round celebration."
What Are We Waiting For? is For KING & COUNTRY's fourth studio album, in addition to A Drummer Boy Christmas, and the one that most accurately represents who they are, in every way.
"We feel settled," Joel told Everything Nash of creating the record. "The first record you're like, 'We might never get to do this again.' And the second record, you've got this sort of sophomore slump thing. And then the third record, I think for us, it was a deeply personal record, but it was also the third record. It has to be something special or remarkable.
"And then this one, the combination of being at home when we recorded it, because of the pandemic, and when we wrote it as well, we were home," he continues. "And then, we just celebrated ten years of being a band. It's, 'Oh, this is good,' which is funny because you feel that with us not having a job for the last year or two years, in some ways it should feel different, but it actually just feels really settled."
"For God Is With Us" featuring Scott is available here. Find all of For KING & COUNTRY's music by visiting their website.