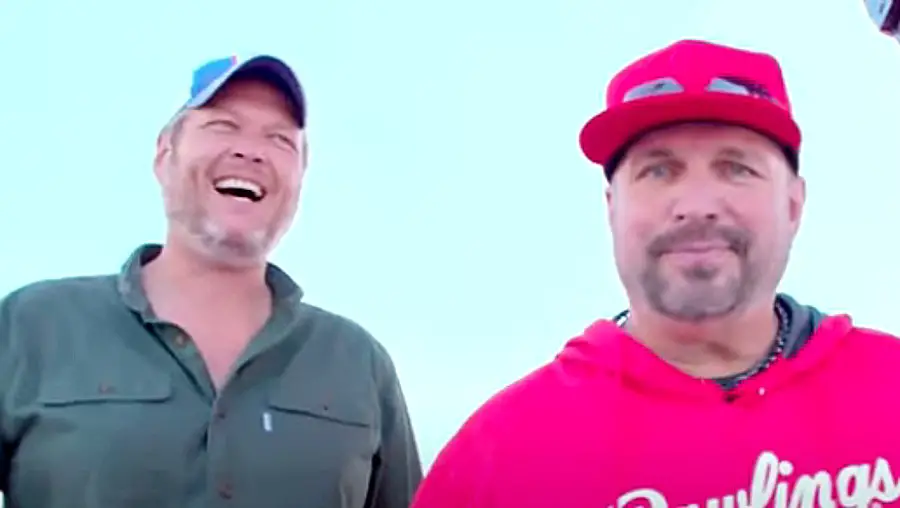 Garth Brooks is a big, big fan of Blake Shelton, and not just for his music. The 58-year-old sang with Shelton on "Dive Bar," from his recent Fun album, and became a big fan of who he is, and not just on stage.
"He is the least 'celebrity' guy you'll ever meet," Brooks told American Songwriter. "If you can't find him, it's because his phone is on silent and he's duck hunting or he's in a blind or he's out fishing. He's just the most regular guy on the planet. It was fun to get to hang out with another artist who wasn't worried about what was coming out of his mouth."
Brooks previously praised Shelton and his upcoming marriage to Gwen Stefani .
"I've always described Blake as my second-favorite female singer," Brooks quipped to Access Hollywood. "I love Blake. You're with Blake for 20 seconds, and you know all about him. Blake's one of those guys that's got no secrets. He's not going to change on you. He's going to be the same, which is a blessing. So I think she's extremely lucky. I love that man. I really do, and I would love to get a chance to know her, because good people hang with good people, and he's solid."
Brooks hopes that his latest record, and his future projects, will do what he has always wanted his music to do: bring unity instead of division.
"What I love about music most is that it's forever there," Brooks says. "It can be 3:00 AM. when no one else wants to talk to you and music will speak to you. Or it will listen. Or it will play along with you. We used to have a T-shirt and on the back of it said something like, 'I've watched music make enemies dance together. I've watched music make people who couldn't speak the same language communicate with each other. And I've watched it make friends of foes.'"
I can't help but wonder if music is truly the voice of hope," Brooks says. "It's certainly a monster of a weapon for us to use to bring people together."